---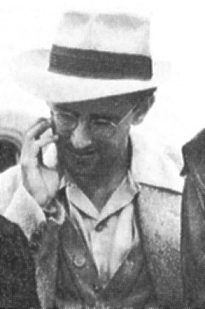 Malina
Malina, Frank J
(1912-1981) American engineer, one of the inventors of the American liquid fuel rocket at CalTech in the 1930's. Led development of the WAC-Corporal rocket, but uninterested in military projects. Moved to Paris to work with UN and later was an artist.
Frank J. Malina was a young Caltech Ph.D. student in the mid-1930s when he began an aggressive rocket research program to design a high-altitude sounding rocket. Beginning in late 1936 Malina and his colleagues started the static testing of rocket engines in the canyons above the Rose Bowl, with mixed results, but a series of tests eventually led to the development of the WAC-Corporal rocket during World War II. After the war, Malina worked with the United Nations and eventually retired to Paris to pursue a career as an artist.
Birth Place: Brenham, Texas.


Born: 1912.10.02.
Died: 1981.11.01.

More... - Chronology...
---
---
---
Associated Countries
---
See also
---
Bibliography
---
Malina Chronology
---
1981 November 1 -
.
---
Home - Browse - Contact
© / Conditions for Use
---