---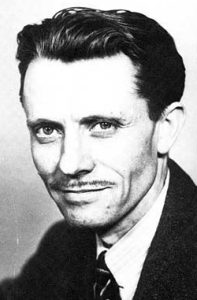 Thompson Floyd
Credit: NASA
Thompson, Floyd L
(1898-1976) American engineer, at NASA 1927-1968, chief of flight research and then headed Langley.
Floyd L. Thompson served in the Navy for four years after 1917 and entered the University of Michigan, earning a B.S. degree in aeronautical engineering in June 1926. He then joined the Langley Aeronautical Laboratory as part of a staff of only about 150. He worked in the flight research division, where he was author or co-author of more than 20 technical reports. He became chief of the division in 1940 and assistant chief of research for all of Langley in 1943. From 1945-1952 he served as chief of research before becoming associate director of the center in 1952 and director in 1960. He was briefly a special assistant to the NASA administrator in 1968 before retiring later that year.
Born: 1898.11.25.
Died: 1976.07.10.

More... - Chronology...
---
---
---
Associated Countries
---
See also
---
Associated Manufacturers and Agencies
---
Bibliography
---
Thompson, Floyd Chronology
---
1976 July 10 -
.
---
Home - Browse - Contact
© / Conditions for Use
---