---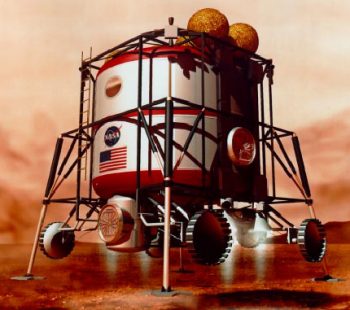 Drmhab3
Credit: NASA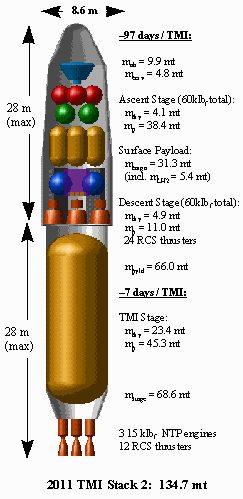 DRM 3 MAV
Credit: NASA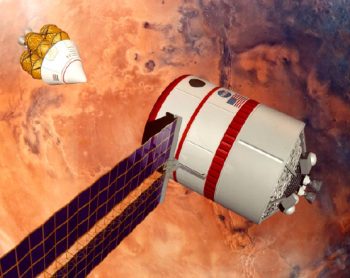 Drmerv3
Credit: NASA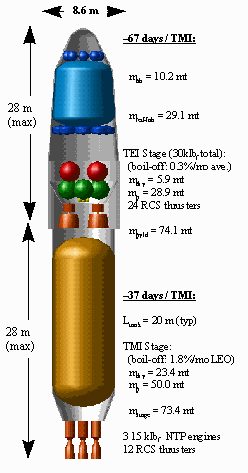 DRM 3 ERV
Credit: NASA
American manned Mars lander. Study 1993. The second version of the NASA Cargo Lander for the design reference mission 3.0 was similar in concept to the first but mass was reduced nearly 30% by a thorough study and scrub of each element.
The cargo lander would land an Earth Entry/Mars Ascent Capsule, an ascent stage, and an ISRU plant on the surface that would produce propellant for the crew's return journey from the Martian atmosphere. It had a typical mass of 66,043 kg on approach to Mars and 44,440 kg on the surface.
Cargo Lander 1 Reference Version 3.0 Mass Summary
Earth Entry/Mars Ascent Capsule: 4,829 kg
Ascent stage dry mass: 4,069 kg
ISRU plant: 3,941 kg
Hydrogen feedstock: 5,420 kg
PVA keep-alive power system: 825 kg
160 kw nuclear power plant: 11,425 kg
1.0 km power cables, PMAD: 837 kg
Communication system: 320 kg
Inflatable Laboratory Module: 3,100 kg
15 kwe DIPS cart: 1,500 kg
Unpressurized rove: 550 kg
3 teleoperable science rovers: 1,500 kg
Water storage tank: 150 kg
Science equipment: 1,770 kg
TOTAL CARGO MASS : 40,236 kg
Vehicle Structure: 3,186 kg
Terminal propulsion system: 1,018 kg
TOTAL LANDED MASS : 44,440 kg
Propellant : 10,985 kg
Forward Aeroshell : 9,918 kg
Parachutes and mechanisms: 700 kg
TOTAL ENTRY MASS : 66,043 kg
NTR Propulsion System: 23,400 kg
TMI Propellant: 45,300 kg
TOTAL INITIAL MASS: 134,743 kg
Gross mass: 134,743 kg (297,057 lb).
Height: 40.30 m (132.20 ft).

More... - Chronology...
---
---
---
Associated Countries
---
Associated Spacecraft
Design Reference Mission 3 American manned Mars expedition. Study 1996. This July 1997 DRM was a subscale version of the original, with a scrub of the original payloads to reduce mass wherever possible. More...
---
See also
---
Associated Manufacturers and Agencies
---
Bibliography
Drake, Bret U, Editor, Reference Mission Version 3.0 - Addendum to the Human Exploration of Mars: The Reference Mission of the NASA Mars Exploration Study Team, NASA Special Publication 6107-ADD EX13-98-036 June 1998.
---
Home - Browse - Contact
© / Conditions for Use
---