---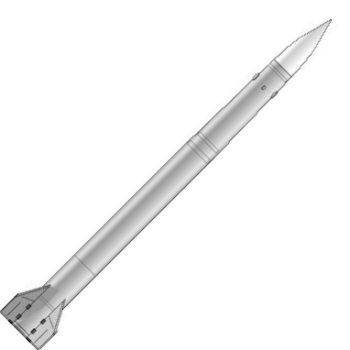 S-300PMU
Credit: © Mark Wade
Third generation family of surface-to-air missiles developed in the 1970's based on new principles. The same launch system could use either 5V55 or 48N6 series missiles, of both mid- and long-range types.
Development began in 1969 of a common surface-to-air missile with 75 km range for the PVO (designated S-300P) and the VMF (Rif). B V Bunkin at NPO Almaz was responsible for development of the system for the PVO and land forces, and V A Bukatov at NPO Altair was responsible for development of the system for the Navy. Development of the common missile for the two systems was undertaken by MKB Fakel (formerly OKB-2 of Grushin). These new generation of surface-to-air missiles would include the 5V55 missile for the S-300P system and the 9M330 for the Tor system. A fundamental re-examination of surface-to-air missile design was undertaken in light of the latest innovations in rocket technology. The goal was to achieve the highest possible velocity while at the same time achieving a new level of reliability. The missile had to have minimal reaction time, improved military utility, minimum time to target, ease of manufacture, and operate under a wider range of climatic conditions. The production missile had to be a 'certified round' - have a guaranteed reliability throughout its lifetime. The result was the TPK combined launch and transport container. This container was never opened between the time it left the factory and the launch of the missile inside. The vertical launch technique adopted used a catapult accelerator within the container to pop the missile to an altitude 20 m above the launcher, where the main motor ignited. The 4M330 featured the world's first gas-dynamic steering system, allowing quick manoeuvrability when homing in on the target.
More... - Chronology...
---
---
---
Associated Launch Vehicles
---
Home - Browse - Contact
© / Conditions for Use
---