---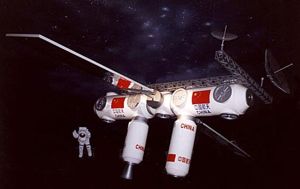 Chinese Station
Chinese space station - model at the Chinese Pavilion, Hannover Expo 2000.The model also shows docked supply and propulsion (solid?) modules.
Credit: © Mark Wade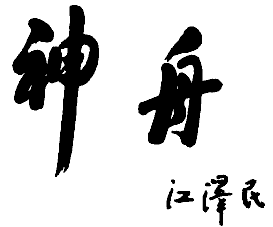 Shenzhou
Shenzhou, name of first Chinese manned spacecraft, as named by President Zemin.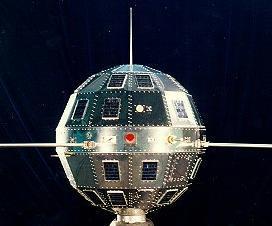 DFH-1
Credit: via Sven Grahn

Recovery of FSW
Recovery of FSW unmanned reconnaissance satellite capsule.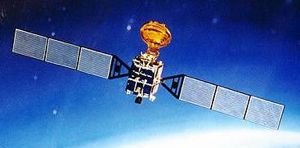 DFH-3
Credit: via Chen Lan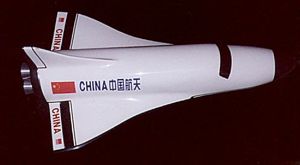 Chinese Shuttle
Chinese shuttle craft - model at the Chinese Pavilion, Hannover Expo 2000.The model indicates a spaceplane similar to the cancelled European Hermes.
Credit: © Mark Wade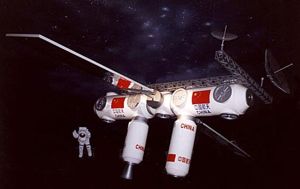 Chinese Station
Chinese space station - model at the Chinese Pavilion, Hannover Expo 2000.The model also shows docked supply and propulsion (solid?) modules.
Credit: © Mark Wade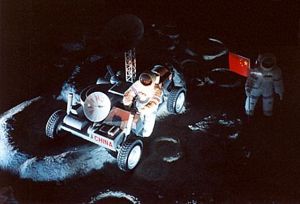 Chinese on Moon
Chinese astronauts with lunar rover plant the flag of the People's Republic of China's flag on the lunar surface - model at the Chinese Pavilion, Hannover Expo 2000.
Credit: © Mark Wade
The amazing history of rocket and space development in China.
...by the first decade of the 21st Century, it seemed that a new Cold War and a new Space Race was in the offing. This time, the challenger to the American super-power was China...
The black powder rocket was invented by the ancient Chinese, but no indigenous effort in development of rocketry or space theory took place until the return of Tsien Hsue-Shen to China from America in 1955. Since the birth of China's space program a year later its development has mirrored that of the nation as a whole. It went through stages of arduous pioneering, development, reform and revitalization, and international cooperation. China's space industry was developed from a non-existent industrial infrastructure and scientific and technological level. After 50 years of struggle China ranked among the most advanced countries in such fields as manned spacecraft, satellite recovery, multi-satellite launch by a single rocket, cryogenic propulsion, strap-on boosters, geostationary satellites, satellite tracking and control, remote-sensing, communications, and navigation satellites, and micro-gravity experiments.
Tsien Hsue-Shen
The early development of the Chinese rocketry and space technology was led by American-trained Tsien Hsue-Shen. Tsien was born in Hangzhou, China in 1911 and went to America on a Boxer Rebellion Scholarship in 1935. Becoming a protégé of the legendary Theodor von Karman, Tsien was the leading theoretician in rocket and high-speed flight theory in the United States. He was instrumental in the founding of the Jet Propulsion Laboratory in California, and collaborated closely with the newly-founded Aerojet Corporation. Tsien was a member of a team of top scientists that entered Germany just behind the American lines, locating and returning to the United States key documents and personnel of the advanced German aircraft and rocketry programs. Tsien first met Wernher von Braun during this period.
Returning from Germany, Tsien edited the leading findings of the project in the 800-page Jet Propulsion, which would become the classified technical Bible for post-war aircraft and rocket technical research in the United States. By 1949 Tsien applied the knowledge learned to the design of a practical intercontinental rocket transport (see Tsien Spaceplane 1949).
But in this same period Tsien's homeland was undergoing a chaotic period of civil war leading to the victory of Mao Tse-tung's Communist forces. In the larger world, the Cold War struggle had begun. Stalin had exploded an atomic bomb. It was revealed that the technology had been stolen from the Americans by wartime Soviet spies. The wartime ally was transformed to America's arch-enemy. In the backlash, McCarthyism took root in the United States.
Tsien seemed to have undergone a similar personal struggle of loyalty and allegiances. On the one hand he had applied to become a US citizen in 1949 and had become one of the senior scientists advising the US military on post-war development of rocket technology. On the other hand, Tsien was revolted by the corruption of the Chinese nationalists, faced racial discrimination in the United States, and constantly vacillated in his desire to return to his homeland.
On June 6, 1950, Tsien was visited by the FBI and accused of being a Communist party member. His security clearance was revoked, destroying his ability to conduct further research. He attempted to return to China, but was detained under virtual house arrest for five years, while his technical knowledge become more and more dated. In the 1955 Geneva talks on return of American prisoners of war, release of Tsien was made an explicit condition of the Chinese. Eisenhower himself agreed to do so, and in September 1955 Tsien left for China.
Arduous Pioneering
Building rocket and aircraft technology in China was to be a long process. Achieving the indigenous technologies in metallurgy, machinery, and electronics was an enormous task. Tsien assisted in negotiation of a 1956 agreement with the Soviet Union for transfer of rocket and nuclear technology to China, including training of Chinese students at Russian universities. The Russians provided an R-2 rocket, an improved version of the V-2, as a starting point. But in 1960 the Soviet government discontinued further cooperation with China. Nevertheless later that year Tsien launched the first Chinese-built R-2, the DF-1.
Chinese political upheavals - the Great Leap Forward, the Cultural Revolution, Tsien's backing of the disgraced Lin Biao - further delayed progress. However despite incredible impediments, the Chinese rocket team launched the CZ-DF-5 ICBM in 1971, in a single decade having gone through intermediate DF-2, DF-3 , DF-3 Tsien , and DF-4 missile designs. The DF-5 ICBM provided the basis for the CZ-FB-1 and CZ-2A space launch vehicles.
In 1968 Tsien founded the Space Flight Medical Research Center to prepare for manned flights. The Shuguang-1 project aimed to put a Chinese man into space by 1973. By 1970 he had launched China's first satellite, the DFH-1, using his CZ-1 rocket (the DF-2 missile with an upper stage), making China the fifth spacefaring country in the world. However the turmoil within Chinese politics continued to impede progress. The CZ-FB-1 and its mysterious JSSW satellite, built by the losing side of the cultural revolution, was canceled. The Shuguang-1, its officers implicated in the Lin Biao affair, was stopped. The CZ-2 however was elaborated into an extensive launch vehicle family over the next thirty years. It was used for launches of the FSW photo reconnaissance satellite, with a recoverable re-entry capsule beginning in 1974.
Tsien's manned spacecraft design proposed in the late 1970's was a winged spaceplane (Tsien Spaceplane 1978), launched by a CZ-2 Spaceplane Launcher], consisting of the CZ-2 core booster with two large strap-on boosters. It so strongly resembled the canceled US Dynasoar of 15 years earlier that US intelligence analysts wondered if it wasn't based on declassified Dynasoar technical information. It would seem that this was to be preceded by a simpler manned capsule (Chinese Manned Capsule 1978).
First public announcement of the manned program came in February, 1978. By November the head of the Chinese Space Agency, Jen Hsin-Min, confirmed that China was working on a manned space capsule and a "Skylab" space station.
In January, 1980 the Chinese press reported a visit with the Chinese astronaut trainees at the Chinese manned spaceflight training center. Photographs appeared of the astronauts in training. Pressure suited astronauts were shown in pressure chamber tests. Other trainees were shown at the controls of a space shuttle-like spaceplane cockpit.
A fleet of ships for recovery of manned capsules at sea was built and in May, 1980, the first capsule was recovered from the South Pacific after a suborbital launch. But then, suddenly, in December, 1980, Wang Zhuanshan, the Secretary General of the New China Space Research Society and Chief Engineer of the Space Center of the Chinese Academy of Sciences, announced that Chinese manned flight was being postponed because of its cost. Fundamental economic development was given priority.
Development
China returned to development of more-modest unmanned spacecraft and entering the international commercial launch market in 1985. China developed new cryogenic engines and used a modular approach based on the CZ-2 design to create a family of 12 Long-March rocket configurations, capable of placing up to 9,200 kg into orbit. China launched 27 foreign-made satellites in 1985-2000. A series of launch failures lead to US assistance in improving the design, resulting in 21 consecutive successful flights from October 1996 to October 2000. However by then a US embargo over improper technology transfer and collapse of the MEO satellite market led to a sharp reduction in Chinese commercial launches. Geography and the availability of existing CZ-2 launch pads resulted in China establishing three land-locked launch sites to reach various orbits. These were Jiuquan, for launch to mid-inclination orbits, Xichang for launch to geosynchronous orbit, and Taiyuan for polar orbits.
Indigenous satellite development was not neglected. By October 2000, China had launched 47 satellites of various types, with a flight success rate of over 90%. Altogether, four satellite series were developed in China:
Manned Programs
China restarted preliminary work on advanced manned spaceflight in July 1985. The decision came against a background of vigorous international space activity. The United States had its Strategic Defense Initiative and Space Station Freedom. The Soviet Union had its Buran shuttle system, Mir and Mir-2 space stations, and its own star wars program. Europe was developing the Hermes manned spaceplane, and Japan the Hope winged spacecraft. Even India and China were taking on ambitious space projects. It seemed China would have to take action to remain a world power.
Ren Xin Min, the leading Chinese rocketry expert of the time, believed that China should make a space station its national goal. This would develop all aspects of space technology, including modern launch vehicle capabilities. In early spring 1986, members of a standing committee of the Chinese Academy of Sciences (Wang Da Hang, Wang Ganchang, Yang Jiachi, Chen Fangyun) proposed a family of seven Project 863 plans to accelerate Chinese technical development. These numbered plans covered biology, astronautics, information technology, military technology, automation, energy, and materials science. Astronautics plan 863-2 included section 863-204 space transportation system, which would service the 863-205 space station. It was estimated that two years would be needed for concept studies.
An expert group was established for the 863-204 shuttle, and issued a tender call to Chinese industry within two months of starting work. Two months later 11 alternate proposals were delivered, of which six were selected for feasibility studies. These were delivered in June 1988. The six proposals, ranked in order of technical sophistication, were:
Seventeen experts met in Harbin during 20-31 July, 1988, to make final assessments and recommend a course of action. It finally concluded that development of a winged reusable space shuttle system was acceptable as a national long-term goal to guide technology development. But China did not have aerodynamic or rocket technology to develop a hypersonic aircraft with reusable rocket engines. The two designs that were considered technically achievable ranked very close in the expert's rating system - the Tian Jao 1 with a score of 83.69, and the Department 508 manned space capsule with a score of 84.00. However no decision could be made as to one or the other at the conference, and the debate raged further.
The space capsule advocates pointed out that the development cost would be relatively modest, since China already had the boosters to launch it, and had proven ballistic capsule re-entry and recovery technology. They repeated that such a capsule would in any case be needed as a lifeboat for a Chinese station, and that the capsule would be safer and more reliable than a spaceplane design. The Chinese aeronautical industry in fact did not have the existing technical base to build a true supersonic cruise aircraft, let alone a hypersonic aircraft.
The Tian Jao spaceplane advocates pointed out that the space capsule approach did little to advance the Project 863 objectives of leapfrogging Chinese technology to a world-class 21st Century level. Indeed China might even invite international contempt by flying a 1960's-type design.
The final 863-204 Expert Commission report in July 1989 advocated building the manned capsule, with a first flight date of 2000. This would satisfy the leadership's desire for an early Chinese manned space capability, and establish the essential earthly infrastructure and spacecraft subsystems technology for more advanced systems. However in parallel development of technology for a two-stage-two-orbit horizontal takeoff and landing reusable space shuttle would be pursued, with a first flight date of 2015.
The report failed to impress the government. Chinese leader Deng Xiaoping rejected both plans, saying that neither could be flying in his lifetime. The Chinese space establishment went back to the drawing board.
While this planning for a new era of Chinese space exploration was underway in great secrecy, an official stance of indifference was presented to the outside world. In 1984 President Reagan offered to fly a Chinese cosmonaut on the U.S. shuttle, but the Chinese were not interested. Subsequent efforts to involve them in the International Space Station were also unsuccessful. The Chinese press reported that astronauts were still in training in September, 1986, but also that manned spaceflight was still considered unaffordable. However in 1983-1988 China signed the various UN treaties on space and began participating in international conferences.
Reform and Revitalization
Deng stepped down as Chairman of the Central Military Commission in 1989. In his absence the Chinese military decided it could safely lend its critical support to a manned space program. In January 1991 the Air Ministry established a manned space program office with Liu Jiyuan as its head. After that things moved quickly. On 15 March 1991 Project 863 leader Ren Xin Min was called to a meeting with Premier Li Peng. Ren Xin Min presented a more modest manned space development plan, using the existing Long March CZ-2E booster to launch a manned ballistic capsule into orbit. There was no longer any mention of development of hypersonic reusable winged space shuttles. Li Peng was especially gratified to see the funds previously spent on the Long March rocket being put to good use, and work on the project began in earnest.
During the course of 1991 three proposals were made for a spacecraft designed within the 8-tonne payload capability of the CZ-2E:
The First Academy (now CALT, the China Academy of Launch Technology) proposed a three-module design like that of Soyuz. However it differed critically in that the orbital module was larger and capable of autonomous flight after the conclusion of the mission. Leader of the design team was Ren Xin Min.
The Fifth Academy (now CAST, the China Academy of Space Technology) considered three alternative configurations. One was a three-module Soyuz-type design, with a forward orbital module, a central re-entry vehicle, and an aft service module. The second had the re-entry vehicle forward, with an orbital module at the center, and a service module aft. Access from the re-entry vehicle to the orbital module was via a metal tube, which ran externally from a hatch in the re-entry vehicle to the orbital module (the solution used in the American MOL, and Soviet Soyuz VI and TKS - a hatch in the heat shield - was evidently considered unacceptable). The third design had just two modules, a larger re-entry vehicle forward, and a service module aft.
The Eighth Academy (now SAST, the Shanghai Academy of Spaceflight Technology ) also proposed a three-module design.
In October 1991 Tsien was retired. Ren Xin Min brought 10% scale models of the proposed designs to a final evaluation board on 8 January 1992. In April 1992 the Chinese leadership decided that an independent manned space program could now be afforded. Perhaps unsurprisingly, the decision was taken to proceed with Ren Xin Min's three-module-autonomous orbital module concept. On 1 August 1992 Li Peng attended the final meeting of the board and where the following program plan was presented:
Phase 1 would involve launch of 2 unmanned versions of the manned spacecraft, followed by the first Chinese manned spaceflight, by 2002.
Phase 2 would run through 2007, and involve a series of flights to prove the technology, conduct rendezvous and docking operations in orbit, and operate an 8-tonne spacelab using the basic spacecraft technology.
Phase 3 would involve orbiting of a 20-tonne space station in the 2010-2015 period, with crews being shuttled to it using the 8-tonne manned spacecraft.
The final plan was approved on 21 September 1992, and Project 921 to create a Chinese manned space capability began in earnest. But Project 921 was much more than just the development of a new spacecraft and modified booster. Implementing the program required modernization of the Chinese technology base and infrastructure, and this was in fact its main purpose. Wang Yongzhi was made responsible for overall project management. At CAST, Qi Faren was responsible for the spacecraft itself. The design of the service module was assigned to SAST under Qi Faren's direction. CALT was to design the CZ-2F man-rated modification of the CZ-2F. A complete new technology vertical assembly building, mobile launch vehicle transporter, and launch pads had to be built in Jiuquan (with Xu Kejun as chief designer). An integrated approach to recovery of the manned spacecraft, including land, sea, and air vehicles, was developed by Zhao Jun for use in the primary landing zones at Siziwangqi and Alashanyouqi in Inner Mongolia. A new unified S-band spacecraft tracking and control network was developed under the leadership of Yu Zhijian. This included new tracking sites outside of Chinese territory, a new tracking ship, the upgrade of existing tracking stations and ships, and a new flight control center in the north-east suburbs of Beijing. Astronaut training and crew technology was non-existent in China, and this capacity was developed by Shu Shuangning at the Aerospace Medical Engineering Research Institute. Of the total $2.3 billion program cost through the first manned flight, $ 1.0 billion went to infrastructure.
A rearguard action was fought to try to include new booster development. In October 1993 the Shanghai Astronautics Bureau proposed development of six large carrier rockets and eight new spacecraft, including a manned one, for inclusion in the Eight and Ninth Five Year Economic Plans. But this was not approved. Shanghai's program for development of a new generation of liquid oxygen - kerosene rockets was shelved, and those resources were instead put into the development of large solid motors for military use.
Russian assistance to the program began as early as May 1991, when Russian lecturers briefed the Chinese engineers on the capabilities and potential of their Soyuz spacecraft. This was followed by two-year fellowships for 20 young Chinese engineers in Russia during 1992-1994. In September 1994 Chinese President Jiang Zemin visited the Russian Flight Control Center in Kaliningrad and noted that there were broad prospects for cooperation between the two countries in space. In March 1995 a deal was signed to transfer manned spacecraft technology to China. Included in the agreement were training of cosmonauts, provision of Soyuz spacecraft capsules and life support systems, androgynous docking systems, and space suits. In 1996 two Chinese astronauts, Wu Jie and Li Qinglong, began training at the Yuri Gagarin Cosmonaut Training Center in Russia. After graduation these men returned to China and began selection of a cadre of 12 Chinese astronauts.
In June 1999, coincident with public announcements that the first unmanned test of the spacecraft would be made in October, photographs of the CZ-2F launcher with a Soyuz-style shroud appeared mysteriously on the Internet. In fact the program was encountering serious delays, and the only way to make the deadline of the first unmanned launch by the end of 1999 was to take the ground electrical test model of the spacecraft and fly that in space. So the first Shenzhou would have functioning service module and re-entry vehicle, but the orbital module would be a nearly inert mock-up.
In April 1998 China began export of its satellite technology with the signature of a memorandum of understanding with Iran, the Republic of Korea, Mongolia, Pakistan and Thailand for development of a 'Small Multi-Mission Satellite'
The first model of a planned manned shuttle was exhibited at Hanover Expo 2000. This showed a double-delta winged spaceplane with a single vertical stabilizer, equipped with three high-expansion engines. Based on the size of the presumed two crew side-by-side cockpit, dimensions could be very roughly estimated as a wingspan of 8 m and a length of 12 m, and a total mass of 12 tonnes. This seemed about half the size but the same configuration as the original six-engined Tian Jiao orbiter designed in 1988.
The New Millennium
The China National Space Administration (CNSA) was established as China's governmental organization responsible for the management of satellites for civilian use and inter-governmental space cooperation with other countries. China's ten-year space objectives as established in 2000 were:
The long-term 20-year development targets were established as:
Industrialisation and marketing of space technology and applications.

Establishment of an integrated space infrastructure and a satellite ground application system that harmonizes spacecraft and ground equipment.

Permanent establishment of China's own manned spaceflight system and conduct of manned spaceflight scientific research and technological experiments 'on a certain scale'. Depending on available budget, this could include the Chinese Space Laboratory, and the Chinese Lunar Base.

To become a world leader in the field of space science and exploration of outer space.

Continued international cooperation to both obtain more-advanced technology from Western countries and to assist developing countries in development of space technology.
As implementation of the new plan began, the situation between the United States and China resembled the Cold War and Space Race. The allegations of Chinese theft of American technology through espionage, and the following security crackdowns and spy hunts, were strongly reminiscent of the early 1950's. It seemed that the second Cold War was beginning, with a second Space Race as well. Thus began the new millennium and the 'Chinese Century', in which China was projected to become the richest, most populous, and most powerful nation on Earth.
Addendum - Chinese Space Infrastructure
The national space program was managed by the China Aerospace Corporation (CASC - called the Ministry of Aerospace Industry before 1993). CASC continued to act as a government department when dealing with foreign affairs in the name of the China National Space Administration (CNSA).
There were five main Research Academies under CASC:
Chinese Academy of Launch Vehicles Technology (CALVT), responsible for design and manufacture of the Long March series of liquid propellant launch vehicles
Chinese Academy of Space Technology, responsible for design and manufacture of satellites
Academy of Solid Rockets
Academy of Tactical Missile Technology
Academy of Cruise Missile Technology.
Commercial space activities were handled by the China Great Wall Industry Corporation (CGWIC). CGWIC was a foreign trade company, exclusively responsible for international sales, marketing, commercial negotiation, contract execution and performance. CGWIC established business relations with a number of companies and research institutes in the United States, Sweden, Germany, France, Australia, Britain, Brazil, the International Communication Satellites Organization, the International Marine Satellites Organization, and other international organizations.
Chinese Space Educational Infrastructure
The first departments of Aeronautics were established in 1940 at Tsinghua University, Shanghai Chao-Tang University, Central University and Zhejiang University. Following the return to China of Tsien Hse Shen and other US-educated experts in 1958, the Beijing Aeronautical Institute, Northwestern Polytechnic University, Xarbin Polytechnical University, Xarbin Military Institute of Technology and others established their departments of astronautics. Northwestern Polytechnical University has provided an astronautics curriculum without interruption since 1958. In its first forty years it granted more than 5000 Bachelors, 500 masters and 80 PhD degrees in astronautics. The other institutes had their activities interrupted by the Cultural Revolution and only resumed teaching in the subject after 1985. Areas of specialization include Flight Vehicle Design, Rocket Engine Design, Control Engineering, Flight Mechanics, Electronics, Avionics, and Computer Sciences. These departments of Astronautics are now called colleges of Astronautics.
Satellite launch sites
China has over the years established three launch sites for its space program:
The Jiuquan launch site located to the north of Jiuquan city in Gansu province. There were four launch pads at the Jiuquan launch site, complete with ground support facilities, from which 24 low earth orbit satellites were launched from 1970 into higher inclination orbits. In 1999 the facility was improved by the addition of a southern area, with a new Vertical Assembly Building and launch pad for heavy and manned launch vehicles.
The Taiyuan launch site located 139 km from Taiyuan city in Shanxi province. This launch site was used for the launch of sun-synchronous and other polar orbit satellites.
The Xichang satellite launch center located near Xichang city in Sichuan province. The Xichang satellite launch center was used for launch of geostationary satellites into low inclination transfer orbits. Xichang has the geographical advantage of being at a relatively low latitude. All of China's geostationary satellites have been launched from Xichang, as well as foreign geostationary satellites launched by Chinese boosters.
Tracking, Telemetry and Command Network
China's tracking, telemetry and command system was constructed and developed in close step with the development of launch sites. Up until the late 1990's, China's TT and C system consisted of a control center located at Xi'an city in Shaanxi province, eight ground stations (5 fixed stations and 3 mobile stations), and two TT and C ships. The 5 fixed ground stations were located at Weinan (near Xi'an), Min'xi (in Fujian province), Changchun (in Jilin province), Karshi (in Xinjiang), and Nanning (in Guangxi). Although located entirely within China, this network of optical and radio tracking devices, and radio telemetry and command links was very successful in fulfilling the needs of China's early space program.
In the late 1990's the original system was supplemented to support the manned space program of the post-2000 period. The number of fixed stations on Chinese territory were increased to six. Agreements were signed with France, Brazil, and Sweden to mutually share tracking stations. An agreement was signed with France in February 1999 to tie together the French CNES control center with the Chinese center in Xian,. In January 2000 gave China access to the Swedish Space Corporation's tracking facilities in Sweden and Norway. New tracking stations were built outside of Chinese territory (in the Pacific, on South Tarawa Island of the Republic of Kiribati and at Swakopmund, Namibia, Africa). The cooperative CBERS project resulted in installation of Chinese satellite control equipment at a ground station in Brazil. A sixteen month overhaul of China's space tracking fleet was completed in Shanghai in 1999 and the fleet was increased to a total of four ships.
On a longer-range basis, a Chinese Tracking and Data Relay Satellite System (TDRSS) was studied. The planned TDRSS would include two geostationary satellites and relay data from 5-10 satellites at a time while over 85% of the globe.
Any Chinese shuttle project will probably be realized in a different form than that originally planned some time in the first half of the next century. The Hanover model suggests that a modest spaceplane, launched by expendable boosters, would be flown before proceeding to any full-scale reusable winged launch vehicles. By 2002 Chinese space scientists were speaking of a two-stage to orbit, ballistic recoverable transport as the first recoverable Chinese space vehicle. The decisions by Russia and America in 2004 to abandon winged designs for the next generation of manned spacecraft and stick to manned capsules may mean that China will abandon any plans for a similar design.
More... - Chronology...
---
---
Home - Browse - Contact
© / Conditions for Use
---