---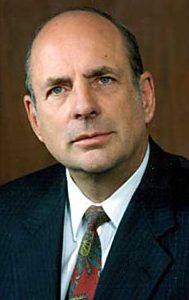 Augustine
Credit: NASA
Augustine, Norman R
(1935-) American engineer. Chairman and CEO of the Martin Marietta Corporation in the 1980s.
Augustine graduated from Princeton University in 1959. He began his career at Douglas Aircraft, rising quickly from research engineering to management positions. He then went into the military-industrial revolving door in the 1960's and 1970's, holding senior management positions within the Department of Defense; Vought/LTV; the Defence Department again; the office of the President; and then NASA. He joined Martin Marietta in 1977 as a Vice President, finishing up as President and CEO in 1987, and Chairman of the Board thereafter.
In 1990 he was appointed to head the Advisory Committee on the Future of the U.S. Space Program for the Bush administration. This panel produced the "Augustine Report", the Report of the Advisory Committee on the Future of the U.S. Space Program. The study defined NASA's over extension, proposed concentration on a 'Mission to Earth (a network of satellites for detailed study of the environment) and a 'Mission from Earth' (a space station as the first step toward the exploration of Mars). The report was enormously important in charting the course of the space program in the first half of the 1990s.
Augustine was also the other of "Augustine's Laws", a trenchant and humorous examination of aerospace industry practices and management. Examples include:
One-tenth of the participants produce over one-third of the output. Increasing the number of participants merely reduces the average output.
The last 10 percent of performance generates one-third of the cost and two-thirds of the problems.
In the year 2054, the entire defense budget will purchase just one aircraft. This aircraft will have to be shared by the Air Force and Navy 3-1/2 days each per week except for leap year, when it will be made available to the Marines for the extra day.
Software is like entropy. It is difficult to grasp, weighs nothing, and obeys the Second Law of Thermodynamics; i.e., it always increases.
Birth Place: Denver, Colorado.


Born: 1935.07.27.

More... - Chronology...
---
---
---
Associated Countries
---
See also
---
Bibliography
Launius, Roger D, NASA Chief Historian, NASA History Office Home Page, Web Address when accessed: here.
---
Home - Browse - Contact
© / Conditions for Use
---