---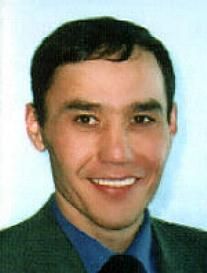 Aymakhanov
Credit:
www.spacefacts.de
- www.spacefacts.de
Aymakhanov, Mukhtar Rabatovich
(1967-) Kazakh pilot cosmonaut, 2002-on.
Graduated in 1988 from the Lenin Komsomol Higher Military Aviation School in Chernigov, Ukraine While nominally an active duty officer in the nearly-defunct Kazakh Air Force, he was involved in several business ventures, at the same time pursuing a degree in law, which he obtained in 2000. Cosmonaut from 2002-11-09 . Major in the Kazakh Air Force Reserve when selected as one of two Kazakh-cosmonauts. OKP (basic cosmonaut training): 16 June 2003 - 28 June 2005.
Birth Place: Dzhusaly.
Status: Active.


Born: 1967.01.01.

More... - Chronology...
---
---
---
Associated Countries
---
See also
---
Associated Manufacturers and Agencies
---
Bibliography
---
Home - Browse - Contact
© / Conditions for Use
---