---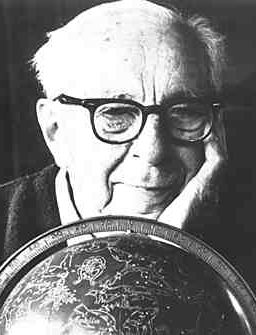 Bonestell
Credit: NASA
Bonestell, Chesley
(1888-1986) Renowned American architectural artist who achieved greater fame as the illustrator of von Braun's vision of human space exploration in the 1950's. His realistic paintings inspired a generation of engineers to make space travel a reality.
Chesley Bonestell was a renowned architectural artist who later in life achieved great fame as the illustrator of several significant article series and books on astronomy and space exploration. From 1944 on he mostly worked in space art and illustrated Wernher von Braun's series for Collier's magazine in the early 1950s and books such as Willy Ley's The Conquest of Space. He also provided art and matte paintings for science fiction films such as Destination Moon (1950). His vivid paintings of launch vehicles, orbital space stations, manned expeditions to the moon and Mars, and Saturn and the outer planets were a key inspiration to the generation of engineers and scientists that would actually conquer space in the second half of the twentieth century.
Born: 1888.
Died: 1986.06.11.

More... - Chronology...
---
---
---
Associated Countries
---
See also
---
Bibliography
---
Bonestell Chronology
---
1986 June 11 -
.
---
Home - Browse - Contact
© / Conditions for Use
---