---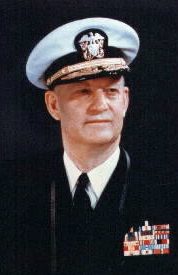 Burke
Credit: NASA
Burke, Arleigh A
(1901-1996) American officer. Chief of Naval Operations, 1955-1961, during development of the Polaris SLBM.
Arleigh A. Burke was a career naval officer who served as commander of a destroyer squadron and then chief of staff of Task Force 58 during World War II. During the Korean War he was commander of Cruiser Division 5. He was chief of naval operations, 1955-1961, and then retired to become a corporate executive.
Born: 1901.10.19.
Died: 1996.01.01.

More... - Chronology...
---
---
---
Associated Countries
---
See also
---
Bibliography
Launius, Roger D, NASA Chief Historian, NASA History Office Home Page, Web Address when accessed: here.
---
Home - Browse - Contact
© / Conditions for Use
---