---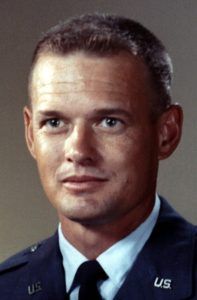 Creamer
Credit:
www.spacefacts.de
- www.spacefacts.de
Creamer, Timothy John 'TJ'
(1959-) American physicist mission specialist astronaut, 1998-on.
Grew up in Upper Marlboro, Maryland. Educated Loyola; MIT. US Army officer.
---
Official NASA Biography
NAME: Timothy J. Creamer (Lieutenant Colonel, USA)

NASA Astronaut Candidate (Mission Specialist)

PERSONAL DATA:

Born November 15, 1959 in Ft. Huachuca, Arizona, but considers Upper Marlboro, Maryland, to be his hometown. Married to the former Margaret E. Hammer. They have two children. Recreational interests include tennis, running, reading, and information technologies. His mother, Mary E. Creamer, resides in Upper Marlboro, Maryland. His father, Edmund J. Creamer, Jr., is deceased.

EDUCATION:

Bishop McNamara High School, Forestville, Maryland, 1978. B.S., Chemistry, Loyola College, Baltimore, Maryland, 1982. M.S., Physics, Massachusetts Institute of Technology, 1992.

ORGANIZATIONS:

Alpha Sigma Nu, Phi Kappa Phi, Sigma Pi Sigma, MENSA, Army Aviation Association of America.

SPECIAL HONORS:

Meritorious Service Medal (2nd Oak Leaf Cluster); Army Achievement Medal (1st Oak Leaf Cluster); National Defense Service Medal; Senior Army Aviator; Senior Parachutist; Distinguished Graduate of the U.S. Army Aviation School.

EXPERIENCE:

Creamer graduated from Loyola College in May 1982, and was commissioned through the ROTC program as a Second Lieutenant in the U.S. Army. He entered the U.S. Army Aviation School in December 1982, and was designated as an Army Aviator in August 1983, graduating as the Distinguished Graduate from his class. He was subsequently assigned to the 1st Armored Division as a section leader, platoon leader, flight operations officer, and as a personnel staff officer for the 501st Attack Helicopter Battalion. In 1987, he was assigned to the 82nd Airborne Division as a commander of an air cavalry troop in the 17th Cavalry, and later as the personnel officer of the 82nd Aviation Brigade. Following this assignment, he completed a Master of Science degree in physics at MIT in 1992, and was subsequently assigned to the Department of Physics at the United States Military Academy as an Assistant Professor. Other military schools include Army Parachutist Course, Army Jumpmaster Course, the Combined Arms Services Staff School, and the Command and General Staff College. Most recently, he had been working as a Space Operations Officer, with the Army Space Command, stationed in Houston, Texas.

NASA EXPERIENCE:

Creamer was assigned to NASA at the Johnson Space Center in July 1995 as a Space Shuttle vehicle integration test engineer. His duties primarily involved being an engineering liaison for launch and landing operations of the Space Shuttle. He was actively involved in the integrated tests of the systems for each Orbiter for its preparations for its next flight. Additionally, he focused his efforts in coordinating the information technologies for the Astronaut Office to aid personnel in their electronic communications both on JSC as well as through their travels to other Centers.

Selected by NASA in June 1998, Creamer reported for training in August 1998. Astronaut Candidate Training includes orientation briefings and tours, numerous scientific and technical briefings, intensive instruction in Shuttle and International Space Station systems, physiological training and ground school to prepare for T-38 flight training, as well as learning water and wilderness survival techniques. Following a period of training and evaluation, Creamer will receive technical assignments within the Astronaut Office before being assigned to a space flight.
NOVEMBER 1998
Birth Place: Ft. Huachuca, Arizona.
Status: Active.


Born: 1959.11.15.
Spaceflights: 1 .
Total time in space: 163.23 days.

More... - Chronology...
---
---
---
Associated Countries
---
See also
---
Associated Flights
---
Associated Manufacturers and Agencies
---
Associated Programs
---
Bibliography
---
Creamer Chronology
---
1985 July 19 -
.
---
2009 December 20 -
. 21:52 GMT - .
Launch Site
:
Baikonur
.
Launch Complex
:
Baikonur LC1
.
LV Family
:
R-7
.
Launch Vehicle
:
Soyuz 11A511U
.
LV Configuration
: Soyuz 11A511U s/n 1752.
---
Home - Browse - Contact
© / Conditions for Use
---