---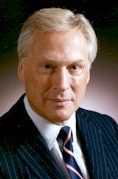 Currie Malcolm
Credit: NASA
Currie, Malcolm R
(1927-) American engineer. Joined Hughes in 1954, becoming a VP 1964-1969. After stints at Beckman and government, returned to Hughes in 1977, becoming CEO 1986-1992. Moved Hughes into DirecTV satellite-to-home business.
Malcolm R. Currie was trained in physics and electrical engineering at the University of California, Berkeley, and served in the U.S. Navy from 1944 to 1947. After military service he returned to school to complete his Ph.D. In 1954 he joined Hughes Research Laboratories, eventually serving as director, before becoming vice president of Hughes Aircraft from 1964 to 1969. He then worked for Beckman Instruments, Inc., but in 1973 President Nixon appointed him Director of Defense Research & Engineering in the Department of Defense, where he served until returning to Hughes in 1977.
As President of the Hughes Missile Systems Group, Currie led the development of the AMRAAM. Later, as Executive Vice President of Hughes, he served as President of Delco Electronics. Currie became Chairman and CEO of Hughes and led its diversification from defense into commercial satellite communications and direct broadcast satellites (DirecTV), making Hughes a world leader in those fields.
Born: 1927.

More... - Chronology...
---
---
---
Associated Countries
---
See also
---
Associated Manufacturers and Agencies
---
Bibliography
---
Home - Browse - Contact
© / Conditions for Use
---