---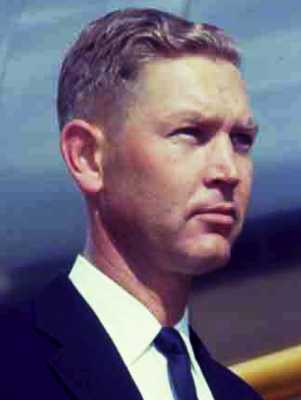 Dempsey
Credit: via Richard Martin
Dempsey, James Raymon
(1921-) American engineer. Headed development of the Atlas missile at Convair.
Dempsey attended the University of Alabama and then went to West Point, where he was president of his class. He served as a P-38 reconnaissance pilot in Europe in World War II. After the war he remained in the Air Force, obtaining higher engineering degrees at the University of Michigan, and serving in oversight of missile development. He advanced to Chief of Projects in the Guided Missile Directorate, USAF Headquarters, then Chief of Projects at the new USAF Missile Test Center at Cape Canaveral, and then Operations Officer for the Test Center in its earliest days.
In 1953, then-Colonel Dempsey was recommended by government insiders as an ideal manager for the not-yet official intercontinental ballistic missile program. Dempsey was accordingly selected by Convair, left the service, and led the industrial team that developed the Atlas. This mammoth project, with 30,000 people at Convair, and another 60,000 at subcontractors, simultaneously developed all-new rocket and guidance technologies, while designing, building, and commissioning 133 missile launch sites at eleven bases spread across the continental United States. The first Atlas launch was made in 1957; the first operational flight in 1960, and all 133 launchers were commissioned by 1962. The missile's career as a weapon was short, but it became the basis of a space launch vehicle that would continue in use into the next century. Simultaneous with development and deployment of the Atlas ICBM, Dempsey oversaw development of the Centaur upper stage, the world's first liquid hydrogen/oxygen rocket stage.
In 1965, the Astronautics and Convair divisions of General Dynamics were combined as Convair, and Dempsey was named president. A year later he departed for the Avco Corporation, becoming vice president of its Government Products Group. He stayed there until 1975, overseeing flight of the company's Apollo capsule heat shield and Minuteman re-entry vehicles. Thereafter he served on the boards of several corporations and mutual funds until retiring in 1994.
Quoting Air Force General Tooey Spaatz, Dempsey liked to give the following advice to his subordinates when liaising with customers: "Never tell a lie, but you don't have to blab the truth".
Birth Place: Red Bay, Alabama.


Born: October 1921.

More... - Chronology...
---
---
---
Associated Countries
---
See also
---
Associated Manufacturers and Agencies
---
Bibliography
Launius, Roger D, NASA Chief Historian, NASA History Office Home Page, Web Address when accessed: here.
Walker, Chuck, with Powell, Joel, Atlas - The Ultimate Weapon, Apogee Books, Canada, 2005.
---
Home - Browse - Contact
© / Conditions for Use
---