---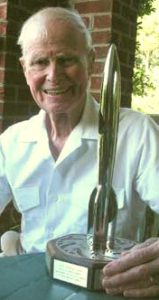 Durant
Credit: NASA
Durant, Frederick C
(1916-) American writer. Space exploration advocate. Engineer at Bell and several government laboratories 1945-1965; Director of Astronautics at NASM; President ARS and IAF 1953-1956; author of several works on space history.
Frederick C. Durant III was heavily involved in rocketry in the United States during the period between the end of World War II and the mid-1960s. He worked for several different aerospace organizations, including Bell Aircraft Corp.; Everett Research Lab; the Naval Air Rocket Test Station; and the Maynard Ordnance Test Station. He later became the director of astronautics for the National Air and Space Museum, Smithsonian Institution. In addition, he was an officer in several spaceflight organizations. These included the American Rocket Society (president 1953); International Astronautical Federation (president 1953-1956); and National Space Club (governor 1961).
Born: 1916.

More... - Chronology...
---
---
---
Associated Countries
---
See also
---
Bibliography
Launius, Roger D, NASA Chief Historian, NASA History Office Home Page, Web Address when accessed: here.
---
Home - Browse - Contact
© / Conditions for Use
---