---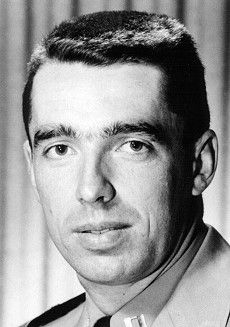 Finley
Credit:
www.spacefacts.de
- www.spacefacts.de
Finley, John Lawrence 'Jack'
(1935-2006) American test pilot astronaut, 1965-1968.
Born in Winchester, Massachusetts; married with two children. BS from US Naval Academy, 1957. Selected Nov 12, 1965 USAF MOL Group 1; reassigned at his own request to operational flying duty with the Navy before the end of the MOL program. He retired from the Navy with the rank of Captain in May 1980.
Official Navy Biography - 1977
Born December 22, 1935 in Winchester, Mass. He graduated from Culver Military Academy in 1953 and entered the Naval Academy June, graduating with a BS. Captain Finley entered Flight Training in Pensacola, FL and was designated a Naval Aviator in August 1958.
Captain's Finley's first assignment was with Air Training Unit 203, at Naval Air Station Chase Field, Texas. Assignments have included VF-51, CVW-5 Staff as Air Wing Landing Safety Officer, Test Pilot and Aerospace Pilot Training at the U.S. Air Force Aerospace Research Pilot's School at Edwards Air Force Base, California where he was retained as an instructor until his selection for the Manned Orbital Laboratory Program, as one of the original seven astronauts in that program, VF-111 Operations Officer, VX-4 Maintenance/Projects Officer, VF-51 as Executive and Commanding Officer, Office of Legislative Affairs, and Commander Carrier Air Wing Five.
Captain Finley assumed Command of USS Kawishiwi on 16 April 1977. Captain Finley amassed over 1000 Carrier Landings.
Captain Finley married the former Florence Herlihy of Orangeburg, South Carolina. Captain and Mrs. Finley resided in Honolulu with their two daughters, Vickie and Cindy.
He retired from the Navy with the rank of Captain in May 1980. He died in Memphis, Tennessee.
Characteristics
Departed: April 1968. Departed Date: 1968-04-01. Cause of Death: Natural causes.. Marital Status: Divorced. Children: Two children. Education: Annapolis;Edwards.
Birth Place: Winchester, Massachusetts.
Status: Deceased.


Born: 1935.12.22.
Died: 2006.09.19.

More... - Chronology...
---
---
---
Associated Countries
---
See also
---
Associated Manufacturers and Agencies
---
Finley Chronology
---
1965 November 12 -
.
---
2006 September 19 -
.
---
Home - Browse - Contact
© / Conditions for Use
---