---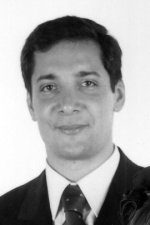 Flores
Flores, Pablo
(1971-) Argentine cosmonaut candidate.
Pablo Flores moved from his native Mendoza, Argentina to Moscow, Russia in December 1992, at the age of 21, in pursuit of his dream to fly in space. He had very little money or knowledge of the Russian language. Flores worked hard to become fluent in Russian and entered the Moscow Aviation and Technology Institute (MATI). Within two years he had founded the Ad Astra project, aimed at launching the first Argentine citizen (namely himself!) into space.
Since Flores did not have the $1 million fee for private cosmonaut training, MATI director Boris Mitin arranged for Flores to train in Star City and the Institute for Biomedical Problems (IBMP) on Friday evenings and Saturdays when the facilities were officially closed.
From 1994 to 1998 Flores wrangled a $800/month scholarship from the Organization of Ibero-American States through the Ministry of Education of Argentina to allow him to continue his studies in Russia. Flores managed to make the right political connections through his ambassador and fromer cosmonaut, then Duma-member Vitaly Sevastyanov. RKK Energia came to see Flores' training as a kind of prototype for what they would later provide for space tourists. It was agreed that if Flores could either come up with the retroactive $ 1 million fee, or the sponsorship of the Argentine government, his training was sufficient for him to be placed on cosmonaut flight status.
By 1999 Flores had managed to get both houses of Argentina's parliament to approve the Ad Astra Project, including $20 million to take Argentine experiments to Mir aboard a Soyuz spacecraft. However both the financial and political support for the project unraveled, even though RKK Energia had agreed to fly Flores to the station in the first half of 2000. Flores was not aboard when the all-Russian crew of Sergei Zalyotin and Aleksandr Kaleri was launched on 4 April 2000 aboard Soyuz TM-30.
Later RKK Energia invited the government of Argentina to fly Flores to the ISS in May 2003. But the severe economic position of the government had rendered the project dead. Flores returned to Moscow in 2002, completed his education, and found work as the Moscow representative of an American company.
Birth Place: Mendoza.


Born: 1971.

More... - Chronology...
---
---
---
Associated Countries
Argentina The Argentine Interplanetary Society was organized in the 1940's. In 1952 Argentina was one of the founding members of the International Astronautical Federation. From 1960 the Comision Nacional de Investigaciones Espaciales (CNIE) worked with the Argentine Air Force's Instituto de Investigaciones Aeronauticas y Espaciales (IIAE) to develop indigenous sounding rockets and missiles. Argentina was the first country in Latin America to send an object into space using an indigenously-developed rocket. In the 1980's Argentina took part in a multinational effort to develop the Condor intermediate range missile. Under American pressure, the Condor Program was canceled in 1991, the IIAE and CNIE were dismantled, and further work on launch vehicles was banned. A new civilian space agency, CONAE was created, which concentrated on development of surveillance satellites for earth resource and environmental monitoring. More...
---
See also
---
Home - Browse - Contact
© / Conditions for Use
---