---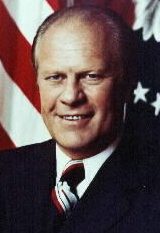 Ford Gerald
Credit: NASA
Ford, Gerald R
(1913-) American politician. House of Representatives 1948-1973; Vice President 1973-1974; President 1974-1977. No new space initatives, stewarded Nixon's program of ending Apollo, single Apollo-Soyuz flight, continued Shuttle development.
Gerald R. Ford (R-MI) was elected to the House of Representatives in 1948 and served there until he became vice president in 1973 following the resignation of Spiro Agnew and president, 1974-1977, following Richard M. Nixon's resignation in the wake of the Watergate break-in.
Birth Place: , Nebraska.
Born: 1913.07.14.

More... - Chronology...
---
---
---
Associated Countries
---
See also
---
Bibliography
Launius, Roger D, NASA Chief Historian, NASA History Office Home Page, Web Address when accessed: here.
---
Home - Browse - Contact
© / Conditions for Use
---