---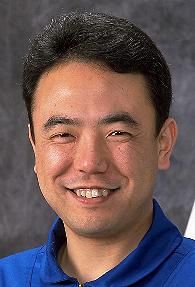 Furukawa
Credit:
www.spacefacts.de
- www.spacefacts.de
Furukawa, Satoshi
(1964-) Japanese physician mission specialist astronaut, 1999-on. Underwent cosmonaut training in Russia, then Astronaut training in USA. Flew on ISS EO-28.
Educated Tokyo.
Official NASA Biography
SATOSHI FURUKAWA (M.D., PH.D.)
JAXA ASTRONAUT (MISSION SPECIALIST CANDIDATE)
PERSONAL DATA: Born in 1964 in Yokohama, Kanagawa, Japan. He enjoys baseball, bowling, music and travelling. Married. Two children.
EDUCATION: Graduated from Eiko high school, Kamakura, in 1983; received a Doctorate in Medicine from the University of Tokyo in 1989, and a Doctor of Philosophy degree in Medical Science from the same school in 2000.
EXPERIENCE: From 1989 to 1999, Furukawa worked in the Department of Surgery at the University of Tokyo, as well as the Department of Anesthesiology at JR Tokyo General Hospital, the Department of Surgery at Ibaraki Prefectural Central Hospital and at Sakuragaoka Hospital.
In February 1999, Furukawa was selected by the National Space Development Agency of Japan (NASDA) as one of three Japanese astronaut candidates for the International Space Station (ISS). He started the ISS Astronaut Basic Training program in April 1999 and was certified as an astronaut in January 2001.
Since April 2001, he has been participating in ISS Advanced Training, as well as supporting the development of the hardware and operation of the Japanese Experiment Module "Kibo".
On October 1, 2003, NASDA merged with ISAS (Institute of Space & Astronautic Science) and NAL (National Aerospace Laboratory of Japan) and was renamed JAXA (Japan Aerospace Exploration Agency).
In May 2004, he completed Soyuz-TMA Flight Engineer-1 training at the Yuri Gagarin Cosmonaut Training Center (GCTC), Star City, Russia.
NASA EXPERIENCE: Furukawa joined NASA Astronaut Candidate Training in June 2004. Astronaut Candidate Training includes orientation briefings and tours, numerous scientific and technical briefings, intensive instruction in Shuttle and International Space Station systems, physiological training, T-38 flight training, and water and wilderness survival training. Successful completion of this initial training will qualify him for various technical assignments within the Astronaut Office.
JUNE 2004
Birth Place: Yokogama, Kanagava.
Status: Active.


Born: 1964.04.04.
Spaceflights: 1 .

More... - Chronology...
---
---
---
Associated Countries
---
See also
---
Associated Flights
---
Associated Manufacturers and Agencies
---
Furukawa Chronology
---
2009 December 20 -
. 21:52 GMT - .
Launch Site
:
Baikonur
.
Launch Complex
:
Baikonur LC1
.
LV Family
:
R-7
.
Launch Vehicle
:
Soyuz 11A511U
.
LV Configuration
: Soyuz 11A511U s/n 1752.
---
2010 December 15 -
. 19:09 GMT - .
Launch Site
:
Baikonur
.
Launch Complex
:
Baikonur LC1
.
LV Family
:
R-7
.
Launch Vehicle
:
Soyuz FG
.
---
Home - Browse - Contact
© / Conditions for Use
---