---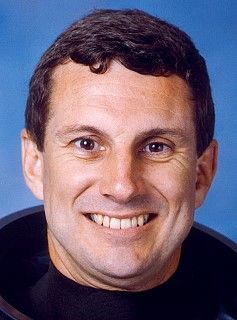 Gaffney
Credit:
www.spacefacts.de
- www.spacefacts.de
Gaffney, Dr Francis Andrew 'Drew'
(1946-) American physician payload specialist astronaut. Flew on STS-40.
Educated UC; UNM; Texas.
NASA Official Biography
Francis Andrew Gaffney, M.D. was born in Carlsbad, New Mexico.
Gaffney graduated from Carlsbad High School in 1964, received a bachelor of arts from the University of California-Berkley in 1968, received a doctor of medicine degree from the University of New Mexico in 1972 and received a fellowship in cardiology from the University of Texas in 1975.
He completed a 3-year medical internship and residency at Cleveland Metropolitan General Hospital, Cleveland, Ohio, in 1975, and went on to receive a fellowship in cardiology at the University of Texas' Southwestern Medical Center in Dallas, becoming a faculty associate and an assistant professor of medicine there in 1979. From 1979-1987, he served as assistant director of echocardiography at Parkland Memorial Hospital, Dallas.
Gaffney served as a visiting senior scientist with NASA from 1987-1989. He was a co-investigator on an experiment aboard STS-40 that studied human cardiovascular adaptation to space flight, and served as Payload Specialist 1 (PS1).
Birth Place: Carlsbad, New Mexico.
Status: Inactive.


Born: 1946.06.09.
Spaceflights: 1 .
Total time in space: 9.09 days.

More... - Chronology...
---
---
---
Associated Countries
---
See also
---
Associated Flights
---
Associated Manufacturers and Agencies
---
Associated Programs
---
Bibliography
---
Gaffney Chronology
---
1987 March -
.
---
1991 June 5 -
. 13:24 GMT - .
Launch Site
:
Cape Canaveral
.
Launch Complex
:
Cape Canaveral LC39B
.
LV Family
:
Shuttle
.
Launch Vehicle
:
Shuttle
.
LV Configuration
: Space Shuttle STS-40.
---
1991 June 14 -
.
---
Home - Browse - Contact
© / Conditions for Use
---