---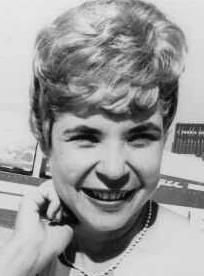 Gorelick
Credit:
www.spacefacts.de
- www.spacefacts.de
Gorelick, Sarah Lee nee Ratley
(1931-) American pilot, one of the Mercury 13 female astroauts proposed in 1961, but never entered training.
Degrees in mathematics, physics, chemistry, and aeronautics from the University of Denver. From 1958 she worked as an engineering assistant at AT and T in Kansas Astronaut 1960 to 2001. One of the group of women who went to the Lovelace Clinic in Albuquerque, New Mexico in 1961 and underwent the same medical and psychological tests that the Mercury 7 astronauts had completed. She was one of the Mercury 13 finalists, considered qualified by Dr. Lovelace for astronaut training.
Birth Place: Kansas City, Kansas.
Status: Inactive.


Born: 1931.

More... - Chronology...
---
---
---
Associated Countries
---
See also
---
Bibliography
---
Gorelick Chronology
---
1961 January 1 -
.
---
Home - Browse - Contact
© / Conditions for Use
---