---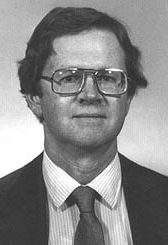 Hinners
Credit: NASA
Hinners, Noel W
(1935-) American geologist. Worked on Apollo at Bellcomm, 1963-1972. NASA HQ on lunar and space science programs, 1972-1979. Director NASM 1979-1982. Directed Goddard, 1982-1987. Associate Deputy Administrator 1987-1989. Martin Marietta VP, 1989-on.
Noel W. Hinners was trained in geochemistry and geology at Rutgers University, California Institute of Technology, and Princeton University. He began his career in 1963 with Bellcomm, Inc., working on the Apollo program, and came to NASA Headquarters in 1972 as the deputy director of lunar programs in the Office of Space Science. From 1974 to 1979, he was NASA Associate Administrator for Space Science. He also served, 1979-1982, as director of the Smithsonian Institution's National Air and Space Museum, and between 1982 and 1987 as director of the Goddard Space Flight Center in Greenbelt, Maryland. He then became Associate Deputy Administrator of NASA, before leaving the agency in 1989 to join the Martin Marietta Corp. as vice president of strategic planning.
Born: 1935.

More... - Chronology...
---
---
---
Associated Countries
---
See also
---
Associated Manufacturers and Agencies
---
Bibliography
---
Home - Browse - Contact
© / Conditions for Use
---