---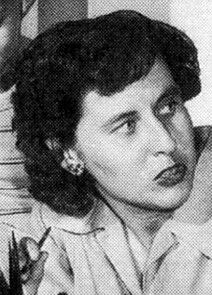 Hixson
Credit:
www.spacefacts.de
- www.spacefacts.de
Hixson, Jean
(1922-1984) American pilot, one of the Mercury 13 female astroauts proposed in 1961, but never entered training.
Jean Hixson served as a pilot in World War II, serving as a WASP in the Army Air Force. Although excluded from combat, WASPs towed targets for live gunnery practice, ferried aircraft domestically and overseas, and trained pilots. Hixson graduated from WASP Class 44-6 at Avenger Field, Sweetwater, Texas, and went on to fly the B-25 twin-engine bomber as an Engineering Test Pilot. She also took an advanced instrument course. After the war she became a flight instructor in Akron, Ohio. After hours, she attended Akron University and received a degree in Elementary and Secondary Education. In 1952, she began a new career as a teacher. It was there she began an astronomy course, and took her kids on field trips to what would later be NASA's Lewis Research Center in Cleveland. At the same time she remained a Captain in the US Air Force Reserve. One of the group of women who went to the Lovelace Clinic in Albuquerque, New Mexico in 1961 and underwent the same medical and psychological tests that the Mercury 7 astronauts had completed. She was one of the Mercury 13 finalists, considered qualified by Dr. Lovelace for astronaut training. After completing astronaut screening at the Lovelace Clinic, Hixson went to work at the Flight Simulator Techniques branch of the USAF Reserve at Wright Patterson AFB in Dayton, Ohio. In 1982, she retired from the Air Force Reserves as a Colonel. In 1983 she completed 30 years of service with the Akron, Ohio School system. Jean died of cancer at age 62.
Birth Place: Hoopeston, Illinois.
Status: Deceased.


Born: 1922.
Died: 1984.01.01.

More... - Chronology...
---
---
---
Associated Countries
---
See also
---
Associated Manufacturers and Agencies
---
Hixson Chronology
---
1961 January 1 -
.
---
Home - Browse - Contact
© / Conditions for Use
---