---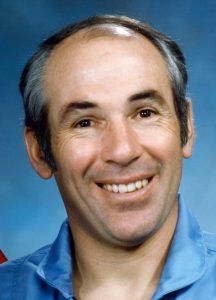 Jarvis
Credit:
www.spacefacts.de
- www.spacefacts.de
Jarvis, Gregory Bruce
(1944-1986) American engineer payload specialist astronaut. Flew on STS-51-L. Died in Challenger accident.
Educated SUNY-Buffalo.
Official NASA Biography:
Gregory B. Jarvis, a payload specialist, worked for the Hughes Aircraft Corp.'s Space and Communications Group in Los Angeles, California, and had been made available for the Challenger flight by his company. Jarvis had been born on August 24, 1944, in Detroit, Michigan. He had been educated at the State University of New York at Buffalo, receiving a B.S. in electrical engineering (1967); at Northeastern University, Boston, where he received an M.S. degree in the same field (1969); and at West Coast University, Los Angeles, where he completed coursework for an M.S. in management science (1973). Jarvis began work at Hughes in 1973 and served in a variety of technical positions until 1984 when he was accepted into the astronaut program under Hughes' sponsorship after competing against 600 other Hughes employees for the opportunity. Jarvis' duties on the Challenger flight on which he was killed had revolved around gathering new information on the design of liquid-fueled rockets.
Birth Place: Detroit, Michigan.
Status: Deceased.


Born: 1944.08.24.
Died: 1986.01.28.
Spaceflights: 1 .
Total time in space: 0.0008 days.

More... - Chronology...
---
---
---
Associated Countries
---
See also
---
Associated Flights
---
Associated Manufacturers and Agencies
---
Associated Programs
---
Bibliography
---
Jarvis Chronology
---
1985 April -
.
---
1986 January 28 -
. 16:38 GMT - .
Launch Site
:
Cape Canaveral
.
Launch Complex
:
Cape Canaveral LC39B
.
LV Family
:
Shuttle
.
Launch Vehicle
:
Shuttle
.
LV Configuration
: Space Shuttle STS-33/51-L.
FAILURE
: Seal on SRB failed, allowed hot gas to burn through External Tank..
Failed Stage
: 0.
---
Home - Browse - Contact
© / Conditions for Use
---