---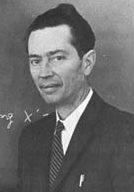 Jones Robert
Credit: NASA
Jones, Robert 'RT'
(1910-1999) American engineer, credited by NASA as inventor of the swept-back and oblique wing concepts.
Official NASA Biography
Robert Thomas (R.T.) Jones was credited as inventor of the swept-back wing, basic to all of today's high-speed aircraft, An internationally-acclaimed expert in many fields of science and technology whose research was essential to the development of supersonic flight, Jones is perhaps best known as the inventor of the oblique wing design. This radical design concept pivoted an entire straight wing attached to the fuselage, forming a scissor-like appearance as flight speed increased.
"R.T. Jones was one of the world's most highly acclaimed aernonautical engineers," said William Berry, deputy director at NASA Ames Research Center, Moffett Field, CA. "He was a critical member of the Ames aeronautical community and will be sorely missed by his colleagues and friends."
Prior to his retirement in 1981, Jones worked as a senior scientist at NASA Ames where he earned a world-wide reputation as an expert in aerodynamics, optics, biomechanics, as well as an applied mathematician, astronomer, inventor, author and violin maker. He died at his Los Altos Hills home at the age of 89.
Born: 1910.05.28.
Died: 1999.08.11.

More... - Chronology...
---
---
---
Associated Countries
---
See also
---
Bibliography
---
Jones, Robert Chronology
---
1999 August 11 -
.
---
Home - Browse - Contact
© / Conditions for Use
---