---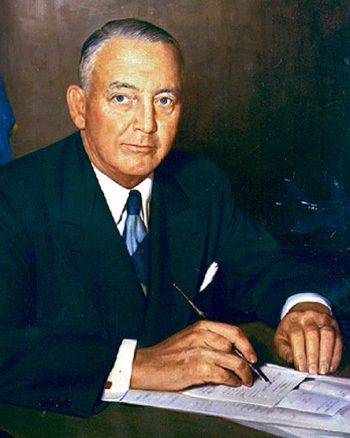 Kimball
Kimball, Dan Able
(1896-1970) American businessman, Vice President of Sales at General Tire, before becoming Head of Aerojet, 1944-1969, transforming it from an undisciplined group of rocket enthusiasts to the second largest US rocket engine manufacturer.
Dan Kimball grew up in the Cincinnati, Ohio area. By the age of 21 he had moved to Santa Paula, California, where he worked for the Richardson Brothers farm implement store as a salesman. He registered for the draft there on 5 June 1917. The registration noted he was tall, 180 poiunds, with light brown hair and eyes, and missing the second finger of right hand.
Kimball was an Army Air Force pilot in World War I. In 1920 became a salesman for General Tire and Rubber in Los Angeles, California. He married in 1925, and became top in sales in the state. He moved up the corporate ladder, becoming a Vice President at the corporate headquarters in Akron, Ohio, by 1942. He became prominently involved in national and Ohio local Democratic politics. When the war brought production of tires for personal automobiles to an end, he was made the General Tire's representative in Washington DC - basically the company's lead salesman to its primary customer, the Pentagon.
In 1944 William F. O'Neil, the President of General Tire and Rubber, had been approached by Dan Haley, Aerojet's lawyer, on the subject of a Pentagon-mandated takeover of the small rocket company. O'Neill was intrigued, and had Kimball check the deal with his sources inside the government. Kimball reported back that the Pentagon indeed was poised to place some gigantic production orders with Aerojet for JATO units, but only if the company could obtain the financial and management support of a major corporation. In December 1944 O'Neil bought a controlling interest in Aerojet for only $75,000. General Tire pumped $ 9 million into Aerojet in the first year alone, and appointed Dan Kimball president. Kimball in turn brought in a close friend, Arthur H Rude, owner of the Los Angeles General Tire dealership, the largest largest west of Chicago. The two outsiders brought new business practices to Aerojet, but in the process they also drove out the young visionaries that created the company. Frank Malina, Jack Parsons, Martin Summerfield did not like the company's new cozy relationship with the Pentagon, its emphasis on military products, and the regulated and bureaucratic matter it handled development. They all moved on to other things.
Aerojet suffered with the rest of the aerospace industry in the post-war Pentagon budget cutbacks, but then Kimball went through the revolving door to serve the Truman administration at the Pentagon. O'Neill was the nominal head of Aerojet during these four years. Kimball was appointed Assistant Secretary of the Navy for Air in February 1949 and became Under Secretary of the Navy the following May. He was then made Secretary of the Navy in July 1951 until the departure of the Truman in January 1953. During Kimball's time in office the Korean War shifted the Cold War into high gear, and enormous new contracts were issued to develop missile and rocket technologies. Many of these contracts of course went to Aerojet. Kimball returned to head Aerojet on 13 July1953, with Rude still his second-in-command.
While in Washington, Kimball met Doris Fleeson, a prominent newspaper reporter with deep connections into the Democratic political machine. Her syndicated column on government insider gossip was syndicated nationally to 90 newspapers. She had divorced her first husband in 1942. By 1954 Kimball and Fleeson were traveling to Europe together on the PanAm clipper, and in 1958, they married.
Running Aerojet had begun as a temporary wartime lark for two near-retirees, but instead Kimball and Rude ran Aerojet until 1963, heading the company in its explosive growth until it became one of the largest American aerospace companies. Kimball moved upstairs to become President and later Chairman of the Board of the Aerojet General Corporation until departing in 1969.
Birth Place: St Louis, Missouri.


Born: 1896.03.01.
Died: 1970.07.30.

More... - Chronology...
---
---
---
Associated Countries
---
See also
---
Associated Manufacturers and Agencies
---
Bibliography
Dorman, Bernie, et. al., Aerojet: The Creative Company, Stuart F Cooper Company, Los Angeles, 1995..
---
Kimball Chronology
---
1970 July 30 -
.
Death of Dan Able Kimball - . Nation: USA. Related Persons: Kimball. Summary: American businessman, Vice President of Sales at General Tire, before becoming Head of Aerojet, 1944-1969, transforming it from an undisciplined group of rocket enthusiasts to the second largest US rocket engine manufacturer..
---
Home - Browse - Contact
© / Conditions for Use
---