---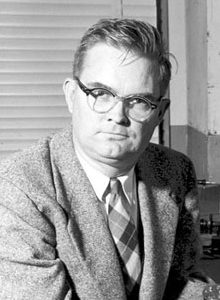 Mengel
Credit: NASA
Mengel, John T
(1918-) American physicist, at USN 1942-1958. Developed tracking systems for Vanguard. At NASA 1958-1973, in charge of tracking and data systems.
John T. Mengel taught physics at Lafayette College from 1939-1940, worked for General Electric from 1940-1942, and then developed and evaluated special detection devices at the Bureau of Ships from 1942-1946. He joined the Naval Research Laboratory in 1946, becoming head of the electronic instrument section in 1947. In 1955 he became head of the tracking and guidance branch for Project Vanguard. He joined NASA in 1958 in the same position. From 1959-1973 he was director for tracking and data systems at Goddard Space Flight Center.
Born: 1918.

More... - Chronology...
---
---
---
Associated Countries
---
See also
---
Bibliography
Launius, Roger D, NASA Chief Historian, NASA History Office Home Page, Web Address when accessed: here.
---
Home - Browse - Contact
© / Conditions for Use
---