---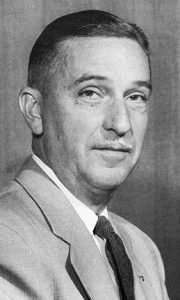 Parsons John
Credit: NASA
Parsons, John F
(1908-1969) American engineer, at NASA 1931-1956, led design, construction, and operation of wind tunnels at Ames.
John F. Parsons had been associate director of the Ames Research Center since 1952. He had joined the staff of the Langley Aeronautical Laboratory as a junior aeronautical engineer in 1931. He worked there with wind tunnels. He moved to Ames in the 1939-1940 period when it was being set up and worked on planning, design, and construction of the new center. He continued wind tunnel work there and was also chief of the construction division. In 1948-1949 he was assistant to the director of the center. Then from 1949-1956 he supervised the wind tunnel construction program among other duties.
Born: 1908.
Died: 1969.01.01.

More... - Chronology...
---
---
---
Associated Countries
---
See also
---
Bibliography
Launius, Roger D, NASA Chief Historian, NASA History Office Home Page, Web Address when accessed: here.
---
Home - Browse - Contact
© / Conditions for Use
---