---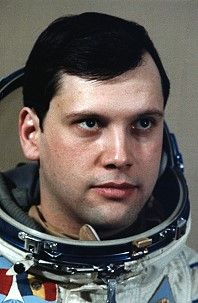 Prunariu
Credit:
www.spacefacts.de
- www.spacefacts.de

Prunariu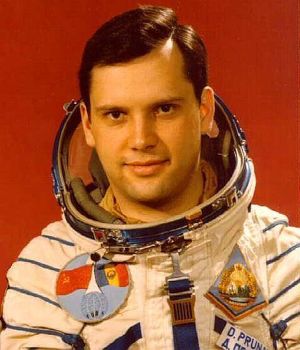 Prunariu
Prunariu, Dumitru Dorin
(1952-) Romanian engineer cosmonaut. Flew on Salyut 6 EP-10. First Rumanian astronaut.
Dumitru Dorin Prunariu, born on September 27, 1952 in Brasov, Romania, graduated from the Physics and Mathematics high school in Brasov in 1971 and in 1976 from the Polytechnic University in Bucharest obtaining a degree in Aerospace Engineering.
D. Prunariu worked as a Diplomatic Engineer at "IAR - Brasov", an aircraft industry facility, prior to enrolling in the Romanian Air Force Officers Training School in 1977. He was selected for spaceflight training in 1978 as a part of the Intercosmos Program. Obtaining the maximum marks during three years of preparation he was selected for a joint space flight with Cosmonaut Leonid Popov. In May 1981 they completed an eight- day space mission on board Soyuz-40 and the Salyut-6 space laboratory where they completed scientific experiments in the fields of astrophysics, space radiation, space technologies, space medicine and biology.
Following his space flight D. Prunariu worked as chief inspector for airspace activities in the Romanian Air Force and as an instructor at the Polytechnic University in the Aerospace Engineering Department where he taught the theory of space flight. In January 1990 he was appointed as Secretary of State to the Ministry of Transportation and chief of the Romanian Civil Aviation Department. In 1991 he graduated from the International Aviation Management Training Institute (IAMTI/IIFGA) located in Montreal, Canada. In 1992 D. Prunariu was appointed as a board member of the Romanian Space Agency and in 1998 appointed to serve as President - General Director. Since 1995 he also served as Vice-President of the International Institute for Risk, Security and Communication Management (EURISC).
Additionally, D. Prunariu is a corresponding member of the International Astronautical Academy (1992) and a member of the Romanian National COSPAR Committee (1994). In 1984 he was awarded the "Hermann Oberth Gold Medal" by the German Rocket Society "Hermann Oberth - Wernher von Braun". In 1985 joined the Association of Space Explorers (ASE), currently with a membership of 270 astronauts from 27 countries. Since 1993 he has been the permanent representative of the Association of Space Explorers at the UN Committee on the Peaceful Uses of Outer Space (COPUOS) sessions. D. Prunariu is currently a member of the Executive Committee of ASE and since 1996 was elected chairman of the Association's committee for policy and international affaires. Since 1992 he is representing the Government of Romania to the UN COPUOS sessions.
D. Prunariu is an author and co-author of several books regarding space technology and space flight and presented, published numerous scientific papers. His PhD thesis produced new developments in the field of space flight dynamics. D. Prunariu is fluent in English, Russian and French.
Dumitru Dorin Prunariu is married and has two sons.
Birth Place: Brasov.
Status: Inactive.


Born: 1952.09.27.
Spaceflights: 1 .
Total time in space: 7.86 days.

More... - Chronology...
---
---
---
Associated Countries
---
See also
---
Associated Flights
---
Associated Manufacturers and Agencies
---
Associated Programs
---
Prunariu Chronology
---
1978 March 1 -
.
---
1981 May 14 -
. 17:16 GMT - .
Launch Site
:
Baikonur
.
Launch Complex
:
Baikonur LC1
.
LV Family
:
R-7
.
Launch Vehicle
:
Soyuz 11A511U
.
---
1981 May 22 -
.
---
Home - Browse - Contact
© / Conditions for Use
---