---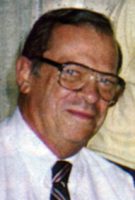 Puckett
Credit: NASA
Puckett, Allen E
(1919-) American engineer. Leader at Hughes Aircraft, 1949-1987. Led development of radars and missiles in 1950's, took Hughes into communications satellite field in 1960's.
Allen E. Puckett earned his Ph.D. at Caltech in 1949 and went to work for Hughes Aircraft Co. that year, becoming its executive vice president from 1965-1977 and its president and CEO 1977-1987. He served as a member of the Nixon Transition Team's Task force on Space to make recommendation on the new administration's efforts in aerospace that was led by Dr. Charles Townes.
Born: 1919.

More... - Chronology...
---
---
---
Associated Countries
---
See also
---
Bibliography
Launius, Roger D, NASA Chief Historian, NASA History Office Home Page, Web Address when accessed: here.
---
Home - Browse - Contact
© / Conditions for Use
---