---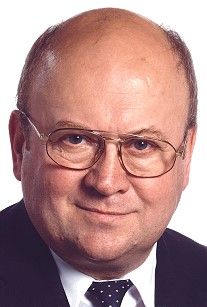 Remek
Credit:
www.spacefacts.de
- www.spacefacts.de
Remek, Vladimir 'Volodya'
(1948-) Czech pilot cosmonaut. Flew on Salyut 6 EP-2. First Czech astronaut.
First cosmonaut from Czechoslovakia.
Vladimir Remek was born on September 26, 1948 in the city of Ceske-Budevice. In 1966, he graduated from a physics and mathematics middle school in Cheslav and entered High Aviation School in Coshice. After graduation in 1970, he served with the Czechoslovak Air Force (Zvolensk Wing). In 1976, he graduated from the Gagarin Air Force Academy in the USSR.
In 1976 he was accepted into the Soviet cosmonaut unit (1976 Intercosmos Group # 1) together with Oldrich Pelczak. He underwent the full general space preparation course and underwent preparations under the Intercosmos program for co-operation with socialist countries. He made his space flight on March 2 - 10, 1978, as research cosmonaut of the space ship "Soyuz-28" (call sign - "Zenit-2") together with Soviet cosmonaut Aleksei Aleksandrovich Gubarev. The cosmonauts worked onboard the orbital complex Salyut 6- Soyuz 27- Soyuz 28 together with Yuri Viktorovich Romanenko and Georgi Mikhailovich Grechko. Their stay in space was 7 days 22 hours 16 minutes.
After 1978, he continued service in the Czechoslovak Air Force. He served as the Assistant to the Chief of the Military Research Institute (1979 - 1985). Afterwards, he served in the Defence Office of Czechoslovakia. He worked as the Director of a Museum of Space and Aircraft in Prague (Czech Republic). He now lives and works in Moscow (Russia).
Awards: Hero of the Soviet Union. Hero of Czechoslovak Socialist Republic. Awarded Soviet Order of Lenin, Czechoslovak Order of Clement Gotvald, others orders and medals.
Copyright (C) Alexander Zheleznyakov, 1998
Birth Place: Ceske-Budevice.
Status: Inactive.


Born: 1948.09.26.
Spaceflights: 1 .
Total time in space: 7.93 days.

More... - Chronology...
---
---
---
Associated Countries
---
See also
---
Associated Flights
---
Associated Manufacturers and Agencies
---
Associated Programs
---
Remek Chronology
---
1976 November 25 -
.
---
1978 March 2 -
. 15:28 GMT - .
Launch Site
:
Baikonur
.
Launch Complex
:
Baikonur LC1
.
LV Family
:
R-7
.
Launch Vehicle
:
Soyuz 11A511U
.
---
1978 March 10 -
.
---
Home - Browse - Contact
© / Conditions for Use
---