---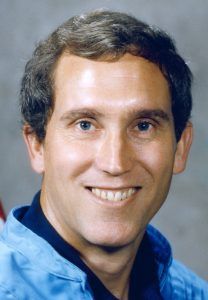 Smith
Credit:
www.spacefacts.de
- www.spacefacts.de
Smith, Michael John
(1945-1986) American test pilot astronaut. Flew on STS-51-L. Died in Challenger accident.
Educated Annapolis.
Official NASA Biography:
Michael J. Smith was born on April 30, 1945 in Beaufort, North Carolina. At the time of the Challenger accident a commander in the U.S. Navy, Smith had been educated at the U.S. Naval Academy, class of 1967, and received an M.S. in Aeronautical Engineering from the Naval Postgraduate School in 1968. From there he underwent aviator training at Kingsville, Texas, and received his wings in May 1969. After a tour as an instructor at the Navy's Advanced Jet Training Command between 1969 and 1971, Smith flew A- 6 "Intruders" from the USS Kitty Hawk in Southeast Asia. Later he worked as a test pilot for the Navy, flying 28 different types of aircraft and logging more than 4,300 hours of flying time. Smith was selected as a NASA astronaut in May 1980, and a year later, after completing further training, he received an assignment as a Space Shuttle pilot, the position he occupied aboard Challenger. This mission was his first space flight. He died in the Challenger explosion.
Birth Place: Beaufort, North Carolina.
Status: Deceased.


Born: 1945.04.30.
Died: 1986.01.28.
Spaceflights: 1 .
Total time in space: 0.0008 days.

More... - Chronology...
---
---
---
Associated Countries
---
See also
---
Associated Flights
---
Associated Manufacturers and Agencies
---
Associated Programs
---
Bibliography
---
Smith Chronology
---
1980 May 19 -
.
---
1986 January 28 -
. 16:38 GMT - .
Launch Site
:
Cape Canaveral
.
Launch Complex
:
Cape Canaveral LC39B
.
LV Family
:
Shuttle
.
Launch Vehicle
:
Shuttle
.
LV Configuration
: Space Shuttle STS-33/51-L.
FAILURE
: Seal on SRB failed, allowed hot gas to burn through External Tank..
Failed Stage
: 0.
---
1986 September -
.
---
Home - Browse - Contact
© / Conditions for Use
---