---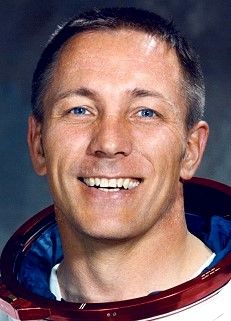 Swigert
Credit:
www.spacefacts.de
- www.spacefacts.de
Swigert, John Leonard Jr 'Jack'
(1931-1982) American pilot astronaut. Flew on Apollo 13. Survived first emergency beyond low earth orbit. Altitude (401,056 km) record. Died of complications from cancer.
Educated Colorado; Rensselaer.
NAME: John L. Swigert Jr.
BIRTHPLACE AND DATE: Swigert was born August 30, 1931, in Denver, Colorado.
EDUCATION: Bachelor of Science in mechanical engineering from University of Colorado in 1953. Master of Science in aerospace science from Rensselaer Polytechnic Institute in 1965. Master of Business Administration from the University of Hartford in 1967.
EXPERIENCE: Swigert served with the Air Force from 1953 to 1956 as a fighter pilot in Japan and Korea. He then served with the Air National Guard in Massachusetts and Connecticut.
Swigert was selected by NASA as an astronaut in April 1966. He was named backup Command Module Pilot for Apollo 13. Just days before the mission he replaced the prime Command Module Pilot, Thomas K. Mattingly, following Mattingly's exposure to German measles. Swigert, Commander Jim Lovell Lunar Module Pilot Fred Haise were to have explored the moon's Fra Mauro highlands in April 1970, but en route, an oxygen tank in the Service Module exploded, resulting in loss of all Command Module oxygen and electric power. The crew used their still-attached Lunar Module as a lifeboat. Together with ground controllers, they made several manual manoeuvres using the Lunar Module engine and made it safely back to Earth after a harrowing trip.
Swigert resigned from NASA and between 1973 and 1977 he was executive director of the Committee on Science and Technology in the U.S. House of Representatives. In 1978, he ran unsuccessfully for the U.S. Senate from Colorado. He then held positions with BDM Corporation and International Gold and Minerals, Ltd., before returning to politics.
On November 2, 1982, Swigert won a seat in the U.S. House of Representatives from Colorado's Sixth Congressional District with 64% of the vote. On December 27, 1982, a week before he would have taken his seat in Congress, Swigert died in Washington, DC, of complications from cancer. He was never married and had no children.
---
Birth Place: Denver, Colorado.
Status: Deceased.


Born: 1931.08.30.
Died: 1982.12.27.
Spaceflights: 1 .
Total time in space: 5.95 days.

More... - Chronology...
---
---
---
Associated Countries
---
See also
---
Associated Flights
---
Associated Manufacturers and Agencies
---
Associated Programs
---
Swigert Chronology
---
1966 April 4 -
.
---
1970 April 11 -
. 19:13 GMT - .
Launch Site
:
Cape Canaveral
.
Launch Complex
:
Cape Canaveral LC39A
.
LV Family
:
Saturn V
.
Launch Vehicle
:
Saturn V
.
LV Configuration
: Saturn V SA-508.
---
1970 April 17 -
.
---
1982 December 27 -
.
---
Home - Browse - Contact
© / Conditions for Use
---