---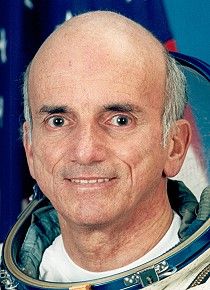 Tito
Credit:
www.spacefacts.de
- www.spacefacts.de
Tito, Dennis Anthony
(1940-) American engineer cosmonaut. Flew on ISS EP-1. First space tourist. First American to return to earth in a Russian spacecraft.
Educated NYU; Rensellaer.
Official RSC Energia biography:
---
DENNIS TITO
Space flight participant, USA
DATE AND PLACE OF BIRTH: August 8, 1940, New York, USA.
EDUCATION: He graduated in 1962 from the New York University engineering college with Bachelor's degree in astronautics. In 1964 he took his Master's degree in engineering from Rensellaer University. In 1970 he took a course at the Anderson school of management of California University, Los Angeles.
FAMILY STATUS: Divorced. He has a daughter and two sons.
AWARDS AND TITLES: Master's degree in engineering.
EXPERIENCE: In 1963 he started working as an aerospace engineer in NASA's Jet Propulsion Laboratory. He calculated trajectories for interplanetary probes of the Mariner series, in particular, he participated in the program of robotic missions to Mars and Venus.
In 1972 he founded his company Wilshire Associates Inc. in Santa Monica, California. The same year he developed the Wilshire aggregate market index (Wilshire 5000), which is the most widely used index in the securities market. Official representatives of the US Federal Reserve System call this index the barometer of the US economy. At present, Wilshire Associates Incorporated is the leading provider of services in the areas of management, consulting and investment technologies.
From October 9, 2000, he trained at the Gagarin Cosmonaut Training Center for a flight to the Russian space station Mir as a space tourist. That flight did not take place because of the de-orbiting of Mir. Instead he was flown to the International Space Station in 2001.
Birth Place: , New York.
Status: Inactive.
Born: 1940.08.08.
Spaceflights: 1 .
Total time in space: 7.92 days.

More... - Chronology...
---
---
---
Associated Countries
---
See also
---
Associated Flights
---
Associated Programs
---
Tito Chronology
---
2000 October 9 -
.
---
2001 April 28 -
.
STS-100 Mission Status Report #19 - . Nation: USA. Related Persons: Baturin; Hadfield; Tito. Program: ISS. Flight: ISS EO-2; ISS EP-1; STS-100. Summary: The primary computer aboard the International Space Station continued to work well through the night, but flight controllers continued to encounter difficulties recovering the station's backup computers.. Additional Details: here....
---
2001 April 28 -
. 07:37 GMT - .
Launch Site
:
Baikonur
.
Launch Complex
:
Baikonur LC1
.
LV Family
:
R-7
.
Launch Vehicle
:
Soyuz 11A511U
.
LV Configuration
: Soyuz 11A511U 674.
Soyuz TM-32 - . Call Sign: Kristall. Crew: Musabayev; Baturin; Tito. Payload: Soyuz TM 11F732 s/n 206. Mass: 6,750 kg (14,880 lb). Nation: Russia. Related Persons: Musabayev; Baturin; Tito. Agency: RAKA. Manufacturer: Korolev. Program: ISS. Class: Manned. Type: Manned spacecraft. Flight: ISS EP-1. Spacecraft: Soyuz TM. Duration: 185.89 days. Decay Date: 2001-10-31 . USAF Sat Cat: 26749 . COSPAR: 2001-017A. Apogee: 397 km (246 mi). Perigee: 385 km (239 mi). Inclination: 51.6000 deg. Period: 92.40 min. Soyuz TM-32 was designated ISS flight 2S by NASA and EP-1 (Visiting Crew 1) by RKK Energia. Soyuz TM-32 was a fresh lifeboat for the station; the Soyuz TM-31 crew themselves would return in Soyuz TM-31, which was at the end of its rated in-space storage tie. Dennis Tito's inclusion in the crew created controversy between NASA and the Russians since he was the first space tourist to fly to ISS. He had originally paid to fly to the Mir station but funds ran out to keep that station in orbit. Soyuz TM-32 docked with the -Z port on Zarya at 0758 GMT on April 30 after Endeavour had departed.. The crew transferred their customized reentry seat liners to Soyuz TM-31, at which point TM-32 became the Station's rescue vehicle. After a six day stay, the Soyuz TM-32 crew returned to earth aboard Soyuz TM-31. The Expedition 3 crew entered Soyuz TM-32) on October 19, 2001 and undocked from the nadir port of Zarya at 1048 GMT, flying it out and then sideways a few meters before approaching the station again to dock with the Pirs nadir port at 1104 GMT. This freed up Zarya for the arrival of a new Soyuz. The docking port at the aft end of Zvezda was occupied by the Progress M-45 cargo ship.
---
2001 April 29 -
.
---
2001 April 29 -
.
STS-100 Mission Status Report #21 - . Nation: USA. Related Persons: Ashby; Baturin; Tito. Program: ISS. Flight: ISS EO-2; ISS EP-1; STS-100. Endeavour's crew and the crew of the International Space Station will say farewell today, ending an eight-day visit by the shuttle that saw delivery a new robotic arm and more than six tons of supplies and equipment to the complex, including two scientific experiment racks for the U.S. laboratory Destiny. Additional Details: here....
---
2001 April 30 -
.
---
Home - Browse - Contact
© / Conditions for Use
---