---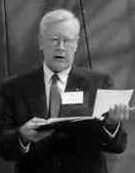 Waterman
Credit: NASA
Waterman, Alan T
(1892-1967) American physicist. First director of the National Science Foundation, 1951-1963. Disputed authority for space science with NASA.
Alan T. Waterman was the first director of the National Science Foundation (NSF) from its founding in 1951 until 1963. Waterman received his Ph.D. in physics from Princeton University in 1916, served with the Army's Science and Research Division in World War I, on the faculty of Yale University in the interwar years, with the War Department's Office of Scientific Research and Development in World War II, and then with the Office of Naval Research between 1946 and 1951. He and NASA leaders contended over control of the scientific projects to be undertaken by the space agency, with Waterman's NSF being used as an advisory body in the selection of space experiments.
Born: 1892.
Died: 1967.01.01.

More... - Chronology...
---
---
---
Associated Countries
---
See also
---
Bibliography
Launius, Roger D, NASA Chief Historian, NASA History Office Home Page, Web Address when accessed: here.
---
Home - Browse - Contact
© / Conditions for Use
---