---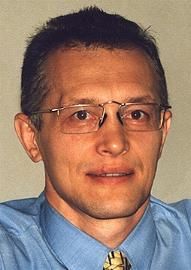 Zhukov Sergei
Credit:
www.spacefacts.de
- www.spacefacts.de
Zhukov, Sergei Aleksandrovich
(1956-) Russian engineer cosmonaut, 2003-on.
Graduated from the Bauman Technical University in 1983, then studied and worked there as a graduate student and instructor until 1988 Worked at Bauman as an instructor until 1988. Edited a technical magazine from 1988 to 1991, and from 1996 was the general director of ZAO "Center for Technology Transfer" within Rosaviakosmos. Cosmonaut from 2003-05-29. OKP basic cosmonaut training from 16 June 2003 - 27 June 2005.
Birth Place: Dzhezkazgan.
Status: Active.
Born: 1956.09.08.

More... - Chronology...
---
---
---
Associated Countries
---
See also
---
Associated Manufacturers and Agencies
---
Bibliography
---
Home - Browse - Contact
© / Conditions for Use
---