Home - Search - Browse - Alphabetic Index: 0- 1- 2- 3- 4- 5- 6- 7- 8- 9
A- B- C- D- E- F- G- H- I- J- K- L- M- N- O- P- Q- R- S- T- U- V- W- X- Y- Z
---
Chinese Space Suit
---
Part of Sokol
---
---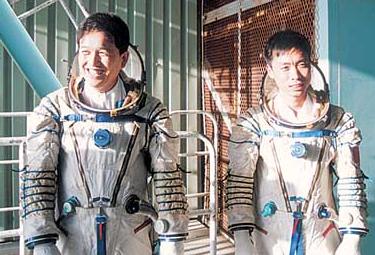 Shenzhou suit
Two astronauts photographed at time of Shenzhou 4 launch.
---
The Shenzhou flight suits were reverse-engineered from the Russia Sokol suit. The suits are designed to protect the astronaut in the event of cabin depressurization, and not for use in extra-vehicular activity.
Gross mass: 15 kg (32 lb).
In April, 1992 the Russian Zvezda institute sold to China a single Sokol space suit for $50,000 cash. This single example was torn down, reverse engineered, and became the suit for the Chinese Shenzhou program. The suits cost $15,000 apiece to produce in China.
There is no regulation of temperature and pressure, and no environmental control system. The helmet is integral to the one-piece suit. In case of depressurization of the spacecraft, external emergency tanks supply oxygen at a rate of 21 liters per minute. Suit pressure is kept at 39kpa for three hours, and then 28kpa for three hours. The suit was worn for the entire one-day mission on Shenzhou 5, the first Chinese manned spaceflight. For Shenzhou 6, the crew removed the suits and donned blue coveralls after entering orbit.
---
---
Family
:
Space Suits
.
Country
:
China
.
Bibliography
:
424
.
---
Photo Gallery
---
---
| | |
| --- | --- |
| | Shenzhou suit |
---
---
Yuhangyuan 2
Colour, uncensored version of photograph of backup astronaut for Shenzhou 5 mission.
---
---
Chinese spacesuit
Chinese spacesuit in test, October 1999
---
---
Chinese Spacesuit, 2
This photograph shows the design is clearly based on the Russian Sokol suit.
---
---
Chinese spacesuit
Chinese astronaut enters pressure chamber to test new-design pressure suit, 1998.
Credit: Richard D. Fisher, Jr
---
---
Chinese Spacesuit
Chinese astronaut in spacesuit being prepared for test in altitude chamber, 1980.
---
---
Chinese Seat
Chinese astronaut in spacesuit and high-G spacecraft seat, ca. 1980.
---
---
Chinese Astronaut
Chinese astronaut in pressure chamber spacesuit test, 1980.
---
---
---
Back to top of page
---
Home - Search - Browse - Alphabetic Index: 0- 1- 2- 3- 4- 5- 6- 7- 8- 9
A- B- C- D- E- F- G- H- I- J- K- L- M- N- O- P- Q- R- S- T- U- V- W- X- Y- Z
---
© 1997-2019 Mark Wade - Contact
© / Conditions for Use
---