---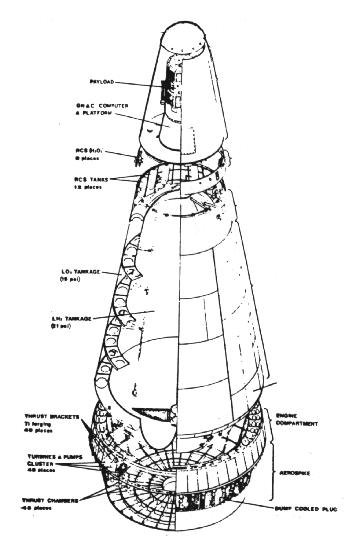 ATV
Credit: Gary Hudson
American manned spacecraft. George Detko of NASA's Marshall Space Flight Center produced a design for a minimum SSTO VTOVL vehicle in 1972. The vehicle had a gross liftoff mass of only 22 metric tons, and could deliver a two-person crew to orbit.
Alternatively it could be used to deliver as a rapid response transport to deliver critical goods anywhere on earth within 30 minutes. The design was refined by Gary Hudson and Tom A Brosz and renamed the 'Aerospike Test Vehicle'. This was the precursor of Hudson's smaller Phoenix designs, notably the Phoenix L (light) and Phoenix L-Prime.
Crew Size: 2.
AKA: ATV.
Gross mass: 22,000 kg (48,000 lb).

More... - Chronology...
---
---
---
Associated Countries
---
See also
---
Associated Launch Vehicles
---
Associated Manufacturers and Agencies
---
Bibliography
Hudson, Gary C, History of the Phoenix VTOL SSTO and Recent Developments in Single-Stage Launch Systems, AAS 91-643, included in Proceedings of 5th ISCOPS, AAS Vol. 77, pp 329-351, November 1991.
---
Home - Browse - Contact
© / Conditions for Use
---