---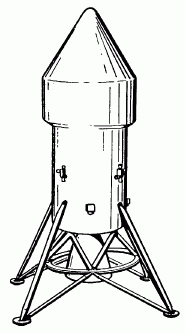 Apollo SMLL
American lunar logistics spacecraft. Study 1966. North American Aviation (NAA) proposed use of the SM as a lunar logistics vehicle (LLV) in 1966. The configuration, simply stated, put a landing gear on the SM.
It was proposed for use in an unmanned, direct landing mode. The system required the addition of remote guidance and control and a suitable throttling engine.
So-called "conversions" of the present SM engine really inferred a new engine development, probably of the same magnitude as that required for the LM descent engine. It was considered wiser by NASA's Bellcomm consultants to develop a new pump-fed engine or use a converted Agena engine and take advantage of the superior performance available.
Advantages of the SM Lander were said to be simple mission configuration; straightforward development; and substantial payload capacity at an early operational date (5,000 kg with an Apollo Block 1 SM; 7500 kg with a service module extended in length by 107 cm). Technical challenges included designing the landing gear and throttling engine provisions, and remote guidance and control for lunar landing.
AKA: SM Logistic Lander.

More... - Chronology...
---
---
---
Associated Countries
---
See also
Lunar Landers Lunar lander design started with the British Interplanetary Society's concept of 1939, followed by Von Braun's 3964 tonne monster of 1953. It then settled down to more reasonably-sized variants. Landers came in three main types: two stage versions, with the first stage being a lunar crasher that would brake the spacecraft until just above the lunar surface, then separate, allowing the second stage to land on the surface; two stage versions consisting of a descent stage that went all the way to the surface, and an ascent stage that would take the crew from the surface to lunar orbit or on an earth-return trajectory; and single stage versions, using liquid oxygen/liquid hydrogen propellants. More...
---
Associated Manufacturers and Agencies
North American American manufacturer of rockets, spacecraft, and rocket engines. North American, Palmdale, El Segundo. Downey, CA, USA More...
---
Bibliography
Bendersky, C, Manned Lunar Program Options - Mission Equipment - Case 230, Bellcomm memo for file, Sept. 29, 1967.
---
Home - Browse - Contact
© / Conditions for Use
---