---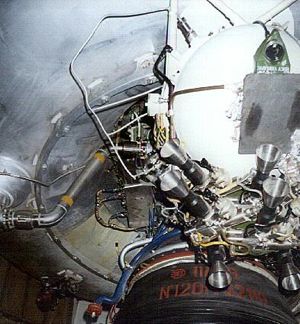 Engine 11D68 detail
Close-up view of the 11D68 Block D lunar crasher stage showing detail of the BOZ orientation/ullage thrusters that control the stage during coast, restart, and manoeuvre.
Credit: © Mark Wade
Russian space tug. 40 launches, (1967) to (1975). Upper stage / space tug - out of production. Launched by Proton. Block D, article number 11S824. Without guidance unit (navigation commands come from payload).
Originally designed as N1-L3 lunar expedition launch vehicle lunar orbit insertion/lunar crasher stage. Adapted for use with Proton UR-500K as a fourth stage for manned circumlunar flight. Further used to launch large Lavochkin bureau unmanned lunar/planetary spacecraft. Flown from 1967 to 1975.
Kerosene changed from T-1 to RG-1 to achieve sufficient chamber cooling.
Unit Cost $: 4.000 million.
AKA: 11S824; Block D; D-1-e.
Gross mass: 13,360 kg (29,450 lb).
Unfuelled mass: 1,800 kg (3,900 lb).
Height: 5.50 m (18.00 ft).
Diameter: 3.70 m (12.10 ft).
Span: 3.70 m (12.10 ft).
Thrust: 83.30 kN (18,727 lbf).
Specific impulse: 346 s.
Number: 40 .

More... - Chronology...
---
---
---
Associated Countries
---
Associated Engines
---
See also
---
Associated Propellants
---
Home - Browse - Contact
© / Conditions for Use
---