---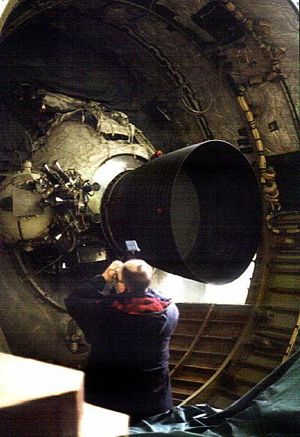 Block D / 11D68
Aft view of the Block D lunar crasher stage and its 11D68 engine. The Block D would have taken the LK lunar lander to near the surface of the moon. This stage remains in use today atop the Proton rocket.
Credit: © Mark Wade
Russian space tug. 11 launches, (1976) to (1989). Upper stage / space tug - in production. Launched by Proton. Also known as Block D-1; article number 11S824M. Without guidance unit (navigation commands come from payload).
Successor to 11S824. Used to launch large Lavochkin bureau unmanned lunar/planetary/high earth orbit spacecraft from 1976 to 1989.
Unit Cost $: 4.000 million.
AKA: 11S824; Block D; D-1-e.
Gross mass: 14,000 kg (30,000 lb).
Unfuelled mass: 1,830 kg (4,030 lb).
Height: 5.50 m (18.00 ft).
Diameter: 3.70 m (12.10 ft).
Span: 3.70 m (12.10 ft).
Thrust: 85.02 kN (19,113 lbf).
Specific impulse: 352 s.
Number: 11 .

More... - Chronology...
---
---
---
Associated Countries
---
Associated Engines
---
See also
---
Associated Propellants
---
Home - Browse - Contact
© / Conditions for Use
---