---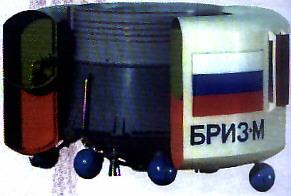 Briz M
Credit: Khrunichev
Russian space tug. 2 launches, (1999) to (2000). Upper stage / space tug - in production. New upper stage for Proton, replacing Energia Corporation's Block DM, making Proton an all-Khrunichev launch vehicle.
The Khrunichev-built Briz-M upper stage was a derivative of the flight-proven Briz -K stage (as used on the Rokot booster). The Briz-M consisted of a central cylinder and a jettisonable external propellant tank. Propellant carried was dependent on the specific mission requirements and was varied to maximize performance for the mission. The Briz-M was capable of operating, on-orbit, for a minimum of 24-hours and was controlled by a closed loop, triple redundant guidance system that was commandable in flight.
High performance storable liquid engine. Engine system consisted of: main engine (2000 kgf, Isp=325.5 s) + 4 11D458 (40 kgf, Isp=252 s) + 12 17D58E (1.36 kgf, Isp=247 s). Main engine: Derivative of S5.92. Capable of 8 restarts. Total deliverable impulse 2,000,000 kgf-s. Minimum impulse 2500 kg-s. Maximum burn time 1000 seconds; minimum time 1 second. Time between burns between 15 seconds and 5 hours. Vernier engines: 4 x 40 kgf. Specific impulse 275 sec. Total summary impulse 14,112 kg-s. Minimum impulse 4 kg-s. Orientation engines: 12 x 1.3 kgf. Specific impulse 270 sec. Minimum impulse 0.068 kg-s.
Gross mass: 22,170 kg (48,870 lb).
Unfuelled mass: 2,370 kg (5,220 lb).
Height: 2.61 m (8.56 ft).
Diameter: 2.50 m (8.20 ft).
Span: 4.10 m (13.40 ft).
Thrust: 19.60 kN (4,406 lbf).
Specific impulse: 326 s.
Number: 2 .

More... - Chronology...
---
---
---
Associated Countries
---
Associated Engines
---
See also
---
Associated Propellants
---
Home - Browse - Contact
© / Conditions for Use
---