---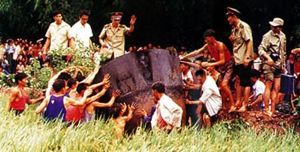 Recovery of FSW
Recovery of an unidentified FSW reconnaissance satellite.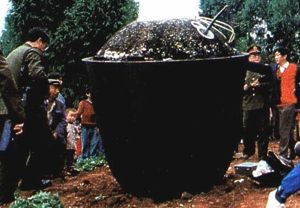 Recovery of FSW
Recovery of FSW-17 photoreconnaissance satellite.
Chinese manned spacecraft. Study 1978. First public announcement of a Chinese manned program came in February, 1978.
By November the head of the Chinese Space Agency, Jen Hsin-Min, confirmed that China was working on a manned space capsule and a "Skylab" space station. However official Chinese histories show no approved Chinese manned program between 1975 and 1985 - so the whole thing seems to have been a disinformation exercise or a result of obscure political infighting.
In January, 1980 the Chinese press reported a visit with the Chinese astronaut trainees at the Chinese manned spaceflight training centre. Photographs appeared of the astronauts in training. Pressure suited astronauts were shown in pressure chamber tests. Other trainees were shown at the controls of a space shuttle-like spaceplane cockpit.
A fleet of ships for recovery of manned capsules at sea was built and in May, 1980, the first capsule was recovered from the South Pacific after a suborbital launch. But then, suddenly, in December, 1980, Wang Zhuanshan, the Secretary General of the New China Space Research Society and Chief Engineer of the Space Centre of the Chinese Academy of Sciences, announced that Chinese manned flight was being postponed because of its cost. Fundamental economic development was given priority.
In the absence of any further information, it can only be conjectured that the manned capsule of this period was derived from the unmanned FSW spacecraft. The Chinese had perfected ballistic re-entry vehicle techniques very early in their space program with the FSW series of photo-reconnaissance satellites. The FSW was first successfully launched in 1976 (the first attempt, in 1974 was a launch failure; the second, in 1975, crashed to earth when the parachute failed). The spacecraft had an overall mass sufficient for a simple manned capsule (2500 kg), but the re-entry vehicle of the basic version seems a bit too small for a human occupant.
Characteristics
Crew Size: 1.
Gross mass: 2,500 kg (5,500 lb).

More... - Chronology...
---
---
---
Associated Countries
---
See also
---
Associated Launch Vehicles
---
Bibliography
---
Chinese Manned Capsule 1978 Chronology
---
1978 February -
.
LV Family
:
CZ
.
Launch Vehicle
:
CZ-2 Spaceplane Launcher
.
---
1980 January -
.
LV Family
:
CZ
.
Launch Vehicle
:
CZ-2 Spaceplane Launcher
.
---
1980 December -
.
---
Home - Browse - Contact
© / Conditions for Use
---