---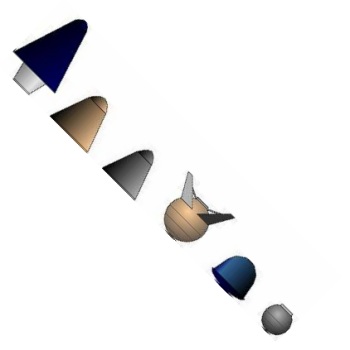 Project 7969 Designs
Project 7969 ballistic designs. From left: Lockheed; Martin; Aeronutronics; Goodyear; McDonnell; Convair
Credit: © Mark Wade
American manned spacecraft. Study 1958. Convair's proposal for the Air Force initial manned space project involved a large-scale manned space station. When pressed, they indicated that a minimum vehicle - a 450 kg, 1.
6 m diameter sphere - could be launched by an Atlas within a year.
The spacecraft would be boosted by an Atlas Hustler booster into a 270 km orbit. Deorbit would be accomplished by retrorocket. The spacecraft had a ballistic coefficient (m/CdA) of 250 kg per square meter. It was expected that a first manned orbital flight could be achieved 12 months after a go-ahead.
Gross mass: 450 kg (990 lb).
Height: 1.52 m (4.98 ft).

More... - Chronology...
---
---
---
Associated Countries
---
See also
Man-In-Space-Soonest The beginning of the Air Force's Man-In-Space-Soonest program has been traced back to a staff meeting of General Thomas S Power, Commander of the Air Research and Development Command (ARDC) in Baltimore on 15 February 1956. Power wanted studies to begin on manned space vehicles that would follow the X-15 rocketplane. These were to include winged and ballistic approaches - the ballistic rocket was seen as being a militarily useful intercontinental troop and cargo vehicle. More...
---
Associated Launch Vehicles
Atlas The Atlas rocket, originally developed as America's first ICBM, was the basis for most early American space exploration and was that country's most successful medium-lift commercial launch vehicle. It launched America's first astronaut into orbit; the first generations of spy satellites; the first lunar orbiters and landers; the first probes to Venus, Mars, Mercury, Jupiter, and Saturn; and was America's most successful commercial launcher of communications satellites. Its innovative stage-and-a-half and 'balloon tank' design provided the best dry-mass fraction of any launch vehicle ever built. It was retired in 2004 after 576 launches in a 47-year career. More...
Atlas Agena A American orbital launch vehicle. Atlas D + 1 x Agena A upper stage. Agena originally called 'Hustler', based on engine for cancelled rocket-propelled nuclear warhead pod for B-58 Hustler bomber. More...
---
Associated Manufacturers and Agencies
---
Bibliography
Baker, David, The History of Manned Spaceflight, Crown, New York, 1981.
Swenson, Grimwood, Alexander, Charles C, This New Ocean, Government Printing Office, 1966. Web Address when accessed: here.
Grimwood, James M., Project Mercury: A Chronology, NASA Special Publication-4001.
---
Home - Browse - Contact
© / Conditions for Use
---