---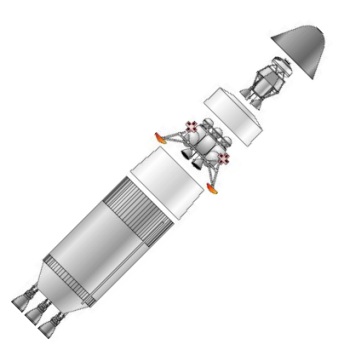 DRM 1 MAV Exploded
Credit: © Mark Wade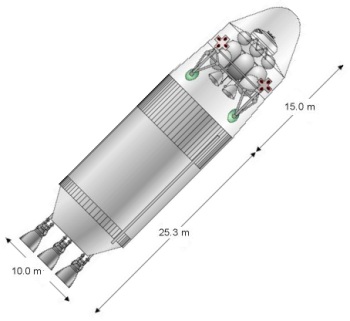 DRM 1 MAV
Credit: © Mark Wade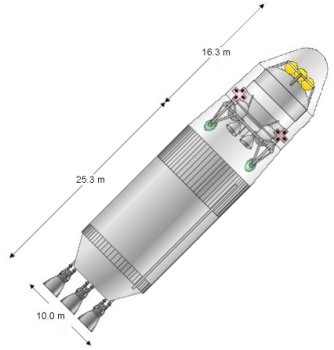 DRM 1 Habitat
Credit: © Mark Wade
American manned Mars lander. Study 1993. The first version of the NASA Crew Lander for the design reference mission would land the crew and a Mars surface habitat on the surface near the previously-landed cargo lander.
The crew would have to use the ascent stage and return capsule of the cargo lander to get back to earth. The crew lander had a typical mass of 89,980 kg on approach to Mars and 60,710 kg on the surface.
Crew Lander Reference Version 1.0 Mass Summary
Habitat element 2: 53,400 kg
Life Support System: 6,000 kg
Health Care: 2,500 kg
Crew Accommodations: 22,500 kg
EVA equipment: 4,000 kg
Comm/infomanagement: 1,500 kg
Power: 500 kg
Thermal: 2000 kg
Structure: 10,000 kg
Science: 900 kg
Spares: 3,500 kg
Crew: 500 kg
3 kw PVA keep-alive power: 1,700 kg
Unpressurized rover 3: 440 kg
TOTAL PAYLOAD MASS: 56,040 kg
Terminal propulsion system: 4,670 kg
TOTAL LANDED MASS: 60,710 kg
Propellant: 11,970 kg
Forward Aeroshell: 17,300 kg
TOTAL ENTRY MASS: 89,980 kg
NTR Propulsion System: 28,900 kg
Shadow Shield: 3,300 kg
TMI Propellant: 86,000 kg
TOTAL INITIAL MASS: 208,180 kg
Gross mass: 208,180 kg (458,950 lb).

More... - Chronology...
---
---
---
Associated Countries
---
Associated Spacecraft
---
See also
---
Associated Manufacturers and Agencies
---
Bibliography
Hoffman, Stephen J, and Kaplan, David I, Editors, Human Exploration of Mars: The Reference Mission of the NASA Mars Exploration Study Team, NASA Special Publication 6107 July 1997.
---
Home - Browse - Contact
© / Conditions for Use
---