---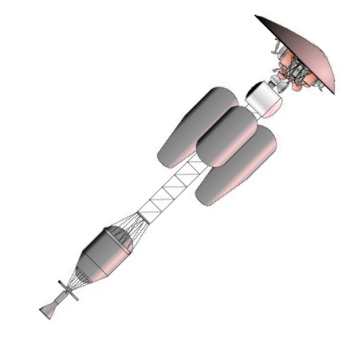 STCAEM NTR
Credit: © Mark Wade
American manned Mars expedition. Study 1998. The design reference mission 4.0 took into account all of the changes in payload masses as a result of further study of individual elements.
Overall mass required in low earth orbit was reduced only slightly, by 2.5%. The use of NTR bimodal propulsion, with a single nuclear reactor that provided both propulsion and electrical power during space operations, in lieu of a separate power source, was made baseline. Cryo/aerobrake and solar electric options were retained.
Design Reference Mission Bimodal Mission Summary:
Summary: Refine DRM 3.0; NTR Bimodal "all-propulsive" option; source data from Borowski NTR
Propulsion: Nuclear thermal
Braking at Mars: aerodynamic
Mission Type: conjunction
Split or All-Up: split
ISRU: ISRU
Launch Year: 2011
Crew: 6
Mars Surface payload-metric tons: 33
Outbound time-days: 180
Mars Stay Time-days: 570
Return Time-days: 150
Total Mission Time-days: 900
Total Payload Required in Low Earth Orbit-metric tons: 400
Total Propellant Required-metric tons: 180
Propellant Fraction: 0.45
Mass per crew-metric tons: 66
Launch Vehicle Payload to LEO-metric tons: 75
Number of Launches Required to Assemble Payload in Low Earth Orbit: 6
Launch Vehicle: Magnum
More... - Chronology...
---
---
---
Associated Countries
---
See also
Mars Expeditions Since Wernher von Braun first sketched out his Marsprojekt in 1946, a succession of designs and mission profiles were seriously studied in the United States and the Soviet Union. By the late 1960's Von Braun had come to favour nuclear thermal rocket powered expeditions, while his Soviet counterpart Korolev decided that nuclear electric propulsion was the way to go. All such work stopped in both countries in the 1970's, after the cancellation of the Apollo program in the United States and the N1 booster in the Soviet Union. More...
---
Associated Manufacturers and Agencies
---
Bibliography
Griffin, Brand; Thomas, Brent; Vaughan, Diane, A Comparison of Transportation Systems for Human Missions to Mars, AIAA 2004-3834, 40th AIAA/ASME/SAE/ASEE Joint Propulsion Conference and Exhibit ,11-14 July 2004.
---
Home - Browse - Contact
© / Conditions for Use
---