---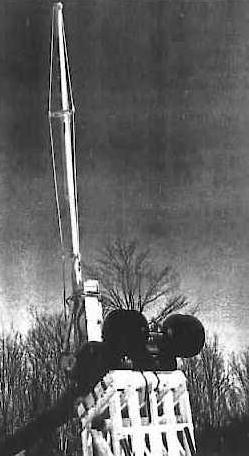 HARP 7 inch Gun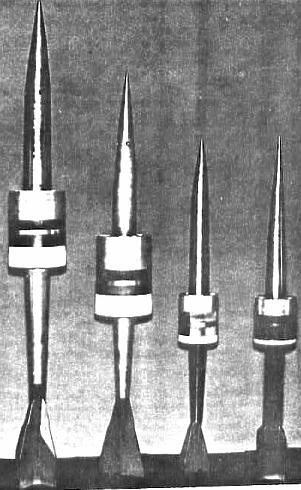 HARP 7 & 5 in probes
From left to right: HARP 7-1, 7-2, 5-1, and 5-3.
Canadian earth atmosphere suborbital probe. Flights from 1961. The original HARP 7-1 gun probe was fundamentally a scaled up version of the 5-1 gun probe and was used for similar payloads.
The 7-1 probe had a mean diameter of 91 mm, a length of 1640 mm, and a flight weight of 27.3 kg. The vehicle was launched at a velocity of 1650 m/s (5400 ft/sec) with a 50 kg (110 lb) charge of M17 propellant.
The 7-1 probe, although serviceable as an atmospheric tool, failed to reach its theoretical apogee in test flights. Although directly scaled from the 5-1 vehicle, it was not optimal for the 7 inch gun ballistics and was simply too heavy. A new vehicle was designed to take these factors into account and the 7-2 probe was created.
by Richard K Graf
Gross mass: 27 kg (60 lb).
Height: 1.64 m (5.38 ft).
Span: 0.18 m (0.58 ft).

More... - Chronology...
---
---
---
Associated Countries
---
See also
---
Associated Launch Vehicles
---
Associated Manufacturers and Agencies
---
Home - Browse - Contact
© / Conditions for Use
---