---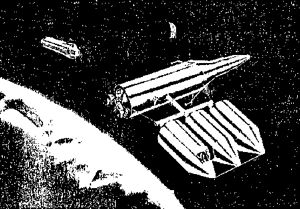 Horizon Space Dock
Assembly and fuelling of translunar stages and spacecraft for Project Horizon in Equatorial Earth Orbit
Credit: US Army
American manned space station. Study 1959.
In the Project Horizon report, Wernher von Braun, then with the Army Ballistic Missile Agency, advanced a theory that he had conceived years earlier for using a booster's spent stage as a space station's basic structure. This later evolved into the "wet stage" concept for the Skylab Program. Project Horizon envisioned moving quickly to an early improved station constructed from 22 upper stage shells. Prior to any expansion of lunar outpost operations, sufficient tankage would have been placed in orbit to permit construction of two or three such stations. The orbital station crew strength was approximately ten; however, the crew would be rotated every several months.
More... - Chronology...
---
---
---
Associated Countries
---
See also
---
Associated Launch Vehicles
---
Associated Manufacturers and Agencies
---
Horizon Station Chronology
---
1959 June 8 -
.
---
Home - Browse - Contact
© / Conditions for Use
---