---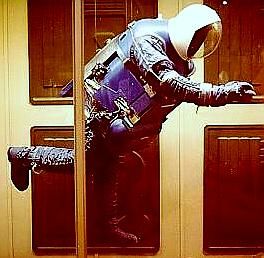 ILMSS
ILMSS - Manned Manoeuvring Unit
Credit: USAF
American space mobility device. Cancelled 1969. In 1968-69 Hamilton Standard developed this Integrated Maneuvering Life Support System (IMLSS) for the USAF Manned Orbiting Laboratory program.
IMLSS could operate on an umbilical from MOL or disconnect and fly independently from the station. IMLSS experience greatly influenced design of the later Shuttle EMU.
For the Manned Orbiting Laboratory (MOL) space station, the U.S. Air Force recognized that existing launch/re-entry and Extra-Vehicular Activity (EVA) type suits had limited EVA ability. In 1967-68, the USAF competed an exclusively EVA suit-system development contract. Hamilton Standard won the competition.
The MOL program was cancelled in 1969 before the prototype gained its thermal outer covers. IMLSS packaging and integration experience greatly influenced Hamilton Sundstrand in the design of the Shuttle Extravehicular Mobility Unit that still serves NASA today.
AKA: Integrated Maneuvering Life Support System, 1968.

More... - Chronology...
---
---
---
Associated Countries
---
See also
Space Suits To explore and work in space, human beings must take their environment with them because there is no atmospheric pressure and no oxygen to sustain life. Inside the spacecraft, the atmosphere can be controlled so that special clothing is not needed. But in order to work outside the spacecraft, humans need the protection of a spacesuit. More...
---
Associated Manufacturers and Agencies
---
Bibliography
"Personal communication", Personal communication from family member or person directly involved with the article..
---
Home - Browse - Contact
© / Conditions for Use
---