---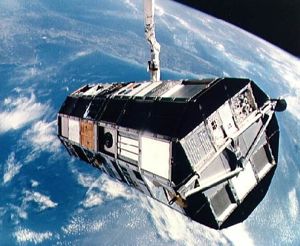 STS-41-C
Florida Peninsula, LDEF Deploy-RMS
Credit: NASA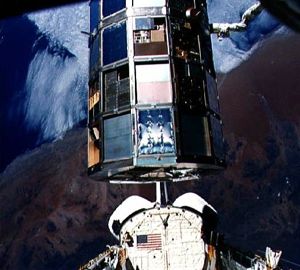 STS-32
LDEF Retrieval over the Namib Desert, Namibia, Africa
Credit: NASA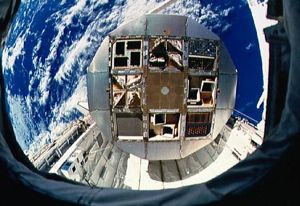 STS-32
LDEF positioned by RMS over OV-102's payload during STS-32 retrieval
Credit: NASA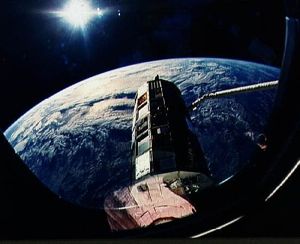 STS-32
LDEF grappled by remote manipulator system (RMS) during STS-32 retrieval
Credit: NASA
American earth micrometeoroid satellite. One launch, 1984.04.06.
NASA's Long Duration Exposure Facility (LDEF) was designed to provide long-term data on the space environment, including micrometeoroids, and its effects on materials degradation and satellite systems (including power, propulsion, and optics).
The mission's 57 experiments included participation of more than 200 principal investigators from 33 private companies, 21 universities, seven NASA centers, nine Department of Defense laboratories and eight foreign countries. LDEF was released from STS 41-C in April 1984 for a planned one year mission before retrieval by another Shuttle mission. Its planned retrieval was temporarily postponed in March 1985, and then indefinitely postponed by the loss of the Challenger in 1986. It was finally retrieved by STS-32 in January 1990 and returned to Earth. At the time of its retrieval LDEF was about one month away from re-entering the Earth's atmosphere. Many of the experiments were enhanced by the extended stay in space. After landing, the experiments were returned to the investigators' institutions for analysis. The spacecraft was a twelve-sided aluminum, steel, and titanium cylinder, gravity gradient stabilized. A viscous magnetic damper damped out initial oscillations. No telemetry, power, attitude sensors, or propulsion systems were carried. The payload included 57 materials, electronics, and micrometeoroid experiments mounted in 86 trays on the outside of the vehicle.
AKA: Long Duration Exposure Facility.
Gross mass: 3,625 kg (7,991 lb).
Height: 9.10 m (29.80 ft).
First Launch: 1984.04.06.
Number: 1 .

More... - Chronology...
---
---
---
Associated Countries
---
See also
---
Associated Launch Vehicles
---
Associated Manufacturers and Agencies
---
Bibliography
---
Associated Launch Sites
---
LDEF Chronology
---
1984 April 6 -
. 13:58 GMT - .
Launch Site
:
Cape Canaveral
.
Launch Complex
:
Cape Canaveral LC39A
.
LV Family
:
Shuttle
.
Launch Vehicle
:
Shuttle
.
LV Configuration
: Space Shuttle 41-C.
---
1990 January -
.
---
Home - Browse - Contact
© / Conditions for Use
---