---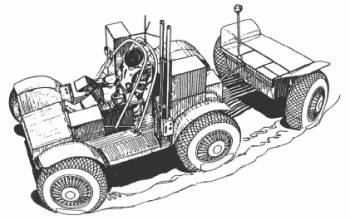 Light Utility Rover
American manned lunar rover. Study 1990. In 1990, Boeing Advanced Civil Space Systems performed an Advanced Civil Space Systems Piloted Rover Technology Assessment Study, which considered both a large pressurized and a small unpressurized rover.
The smaller, Light Utility Rover, would provide 8 hours life support for 2 crew members.
It was designed to transport the crew plus 200 kg of equipment or 300 kg of bulk materials, and perform other light construction and hauling tasks. It had a mass of 984 kg, a length of 4.06 m, and a width of 2.34 m. It was designed for a ground clearance of 0.47 m. Total power was 1 kW, with motors in each drive wheel. Power was supplied by either rechargeable batteries or fuel cells.
Characteristics
Crew Size: 2. Electric System: 1.00 average kW.
Gross mass: 990 kg (2,180 lb).
Height: 4.06 m (13.32 ft).
Diameter: 2.34 m (7.67 ft).

More... - Chronology...
---
---
---
Associated Countries
---
See also
Lunar Rovers Lunar rovers were studied in a dizzying variety of sizes and shapes by NASA in the 1960's - including crawlers, trains, hoppers, and even worms. Two rovers designed for manned use actually traveled the lunar surface in the 1970's - the American two-man Lunar Rover, and the Soviet Lunokhod, which traveled the moon in robotic mode but was originally designed as emergency cosmonaut transportation. More...
---
Associated Manufacturers and Agencies
---
Bibliography
Zakrajsek, James J; McKissock, David B; Woytach, Jeffrey M; Zakrajsek, June F; Oswald, Fred B; McEntire, Kelly J; Hill, Gerald M; Abel, P; Exploration Rover Concepts and Development Challenges, NASA/TM-2005-213555 / AIAA-2005-2525, March 2005.
---
Home - Browse - Contact
© / Conditions for Use
---