---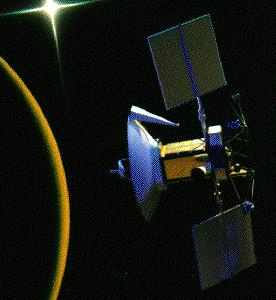 Magellan
Credit: NASA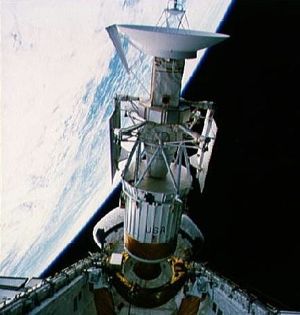 STS-30
STS-30 Magellan spacecraft & IUS deployment from Atlantis' payload bay (PLB)
Credit: NASA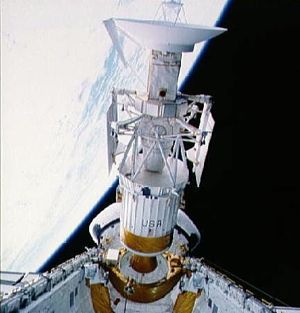 STS-30
STS-30 Magellan spacecraft & IUS deployment from Atlantis' payload bay (PLB)
Credit: NASA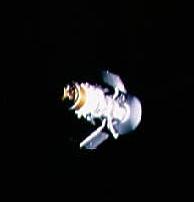 STS-30
IUS with Magellan spacecraft drifts into space after STS-30 deployment
Credit: NASA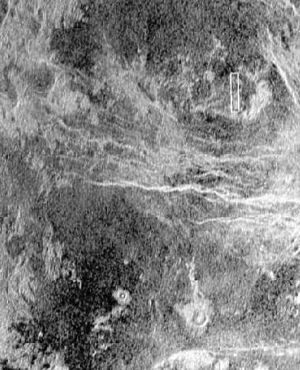 STS-30
Magellan radar image compared to high resolution Earth-based image of Venus
Credit: NASA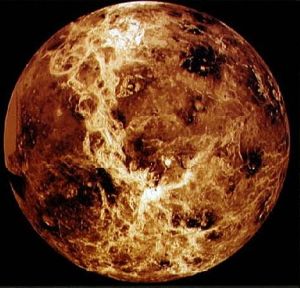 STS-30
Global view of Venus from Magellan, Pioneer, and Venera data
Credit: NASA
American Venus probe. One launch, 1989.05.04. The primary objectives of the Magellan mission were to map the surface of Venus with a synthetic aperture radar (SAR) and to determine the topographic relief of the planet.
At the completion of radar mapping 98% of the surface was imaged at resolutions better than 100 m, and many areas were imaged multiple times. Additional studies included measurements of surface altitude using radar altimetry and measurements of the planet's gravitational field using precision radio tracking. The mission was divided up into "cycles", each cycle lasted 243 days (the time necessary for Venus to rotate once under the Magellan orbit - i.e. the time necessary for Magellan to "see" the entire surface once.)
The Magellan mission scientific objectives were to study land forms and tectonics, impact processes, erosion, deposition, chemical processes, and model the interior of Venus. A total of 4225 usable SAR imaging orbits were obtained. Each orbit typically covered an area 20 km wide by 17,000 km long, at a resolution of 75 m/pixel. This raw SAR data was processed into image strips called full-resolution basic image data records (F-BIDRs). Adjacent F-BIDRs were then assembled into full-resolution mosaiced image data records (F-MIDRs). These images were then compressed once (by a factor of 3), twice (9), or 3 times (27), to give C1-, C2-, and C3-MIDRs.
The spacecraft was 3-axis stabilized using 3 reaction wheels. A 3.7 m diameter high gain antenna was used for both telecommunications and radar. Attitude sensors included 2 cruise sun sensors, 1 star scanner, and 2 inertial reference units. The power system included a 12.5 m2 solar array (1029 W EOL) and NiCd batteries (2 x 30 AHr). The hydrazine propulsion system had 0.9 N and 445 N thrusters. X-band (20 W) and S-Band (5 W) communications were provided with downlink rates of 268.8 or 115 kbps. Uplink rates were 31.25 and 62.5 bps.
A single radar instrument operated simultaneously as a Synthetic Aperture Radar (SAR), altimeter, and radiometer. Radar frequency was 2.385 GHz, with 325 W peak power and 25 km swath width (variable). Altimeter resolution was 30 m. Radiometer accuracy was 2 deg C. SAR resolution was 150 m (range and azimuth). An X- and S- band radio subsystem precisely tracked the spacecraft's orbit to make measurements of the gravity field.
Original name of the project was the Venus Orbiting Imaging Radar. Hughes supplied the radar mapper, and Martin the satellite.
Gross mass: 3,444 kg (7,592 lb).
Height: 6.40 m (20.90 ft).
Span: 9.20 m (30.10 ft).
First Launch: 1989.05.04.
Number: 1 .

More... - Chronology...
---
---
---
Associated Countries
---
See also
---
Associated Launch Vehicles
---
Associated Manufacturers and Agencies
---
Bibliography
---
Associated Launch Sites
---
Magellan Chronology
---
1989 May 4 -
. 18:47 GMT - .
Launch Site
:
Cape Canaveral
.
Launch Complex
:
Cape Canaveral LC39B
.
LV Family
:
Shuttle
.
Launch Vehicle
:
Shuttle
.
LV Configuration
: Space Shuttle STS-30R.
---
1990 August 10 -
.
---
1994 October 12 -
.
---
Home - Browse - Contact
© / Conditions for Use
---